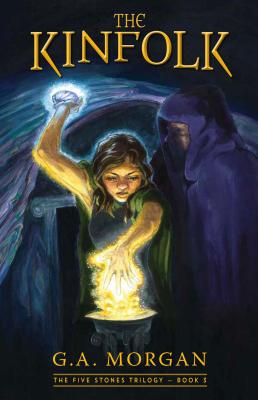 The Kinfolk (Five Stones Trilogy #3)
Hardcover

* Individual store prices may vary.
Other Editions of This Title:
Paperback (10/3/2017)
Description
In the dramatic conclusion of The Five Stones Trilogy, Chase, Evelyn, and Knox must gather together disparate forces to save not just Ayda, but their own world. The three young people have returned through the fog to fulfill their promise to the Keepers on the island of Ayda, whose four realms are in turmoil. But in Exor, Dankar's evil forces continue to grow as he corrupts and coerces all in his domain, with the final intent of gaining total control of Ayda so he may take his battle to the world beyond the fog--the world of Chase, Evelyn, and Knox. The stones of power that fuel the other three realms--and their people--weaken as Dankar harnesses more energy. Chase, Evelyn, and Knox--each one struggling in a different realm--are on a desperate quest to learn more about their own powers and halt what seems to be the inevitable destruction of Ayda. The dramatic reappearance of Chanterelle and two mysterious guests bring answers long sought, but not before everyone on Ayda has been tested to the utmost of their abilities and reunited in the most unexpected of ways. Now, only the Fifth Stone can restore harmony to Ayda and the fate of the world hangs in the balance. G.A. Morgan, who excels at world-building, (School Library Journal), introduced us to Ayda in The Fog of Forgetting and raised the stakes in Chantarelle. Now she brings the trilogy to a conclusion with a profound investigation of what it takes to continue believing in one another when almost every hope is gone.
Islandport Press, Inc., 9781934031827, 320pp.
Publication Date: October 25, 2016
About the Author
G. A. Morgan is the author of The Fog of Forgetting and Chantarelle, the first two books in The Five Stones trilogy, and several nonfiction works under her full name, Genevieve Morgan. She grew up in New York City and spent every summer of her childhood in Maine. She now lives and works in Portland, Maine.
or
Not Currently Available for Direct Purchase