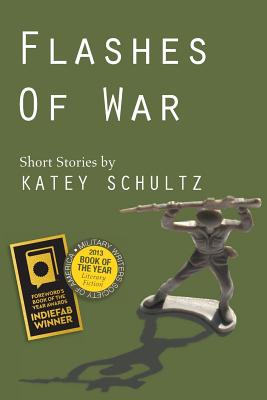 Flashes of War
Short Stories
Paperback

* Individual store prices may vary.
Description
Illuminating the intimate, human faces of war, this unique series of short stories by award-winning author Katey Schultz questions the stereotypes of modern war by bearing witness to the shared struggles of all who are touched by it. Numerous characters-returning U.S. soldier and pragmatic jihadist, Afghan mother and listless American sister, courageous amputee and a ghost that cannot let go-appear in Flashes of War, which captures personal moments of fear, introspection, confusion, and valor in one collection spanning nations and perspectives. Written in clear, accessible language with startling metaphors, this unforgettable journey leaves aside judgment, bringing us closer to a broader understanding of war by focusing on individuals, their motivations, and their impossible decisions. Flashes of War weaves intimate portrayals of lives affected by the War on Terror into a distinctive tapestry of emotional resonance. It builds bridges, tears them down, and sends out a universal plea for reconnection. "Katey Schultz has written an amazing book. What emerges from these stories is a chorus of voices-American, Afghan, Iraqi-and this chorus enlarged my sense of a war that has defined an American decade. Flashes Of War is the work of a bold, ambitious, and brilliant young author who is writing stories few others in American fiction have really yet tackled." - Doug Stanton, author of New York Times Bestsellers Horse Soldiers and In Harm's Way Katey Schultz grew up in Portland, Oregon, and is most recently from Celo, North Carolina. She is a graduate of the Pacific University MFA in Writing Program and recipient of the Linda Flowers Literary Award from the North Carolina Humanities Council. She lives in a 1970 Airstream trailer bordering the Pisgah National Forest. This is her first book.
Apprentice House, 9781934074855, 200pp.
Publication Date: May 27, 2013