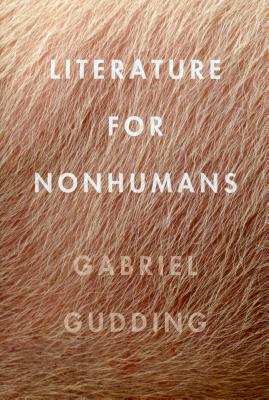 Literature for Nonhumans
Paperback

* Individual store prices may vary.
Description
Poetry. Hybrid Genre. Animal & Environmental Studies. Regional Studies. The history of Illinois, more an idea than a state, is re-presented in the prose poems of LITERATURE FOR NONHUMANS. Illinois was once an ecoparadise teeming with indigenous species. Now it is, Gabriel Gudding tells us, a notable absence of nonhuman animal, and a starting place to turn inside-out the language of everyday slaughter. (An Illinois, he writes, is any region that conceives of the river as a drain.) Gudding's historiographic prose poetry illustrates our changed relation to nonhuman animals. Over and over, we return to the legal torture of pigs explained matter-of-factly by slaughterhouse manuals of the present day. The extended poem- cum-expository essay displays the wild nonhumans of Illinois-birds, mammals, and more- renamed to parody the language of biologists, whose language is a different kind of animal cage. As Gudding tries to break the syntax and shape of language itself, he is fenced in yet again by impenetrable bureaucratic jargon on the slaughter (the care) of nonhumans. We even relate to rivers differently in an apocalypse that cannot be seen because we don't want to see it. Humans hew forests, drain wetlands, make species extinct, and this poet mourns even through his jeremiad. Gudding's afterword is plea and manifesto; every word of LITERATURE FOR NONHUMANS is crucial to a world in which even simple morality strains for life.

Just as Sinclair exposed humanity's lack of humanity in The Jungle over a hundred years ago, Gudding creates, in LITERATURE FOR NONHUMANS, a vivid lyric investigation of our society's current slide from an age of destruction into a new age of extinctions. In this multidisciplinary & interdisciplinary text, Gudding notches every inch between lament and manifesto and intersects every topic from here (piglets, zombies, Illinois) to heaven where, upon arrival, we find 'Christ as an anal robot-king we've set narratively running at the edge of history to serve as a reparator by vicarious redemption.' Prepare to be horrified, crackled, poem-ed. Prepare to be schooled.--Amy King.
Ahsahta Press, 9781934103630, 144pp.
Publication Date: November 1, 2015
or
Not Currently Available for Direct Purchase