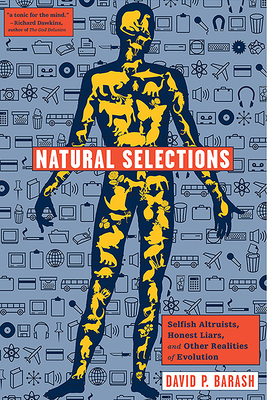 Natural Selections
Selfish Altruists, Honest Liars, and Other Realities of Evolution
Hardcover

* Individual store prices may vary.
Description
"Barash . . . brilliantly integrat es] science, literature, and pop culture into elegant and insightful commentaries on the most interesting and important questions of our time. A delightful read."--Michael Shermer, author of The Science of Good and Evil
"Entertaining and thought-provoking."--Steven Pinker, author of The Blank Slate
If we are, in part, a product of our genes, can free will exist? Incisive and engaging, this indispensable tour of evolutionary biology runs the gamut of contemporary debates, from science and religion to our place in the universe.
David Barash is the author of The Myth of Monogamy and Madame Bovary's Ovaries. He lives in Redmond, Washington.
Bellevue Literary Press, 9781934137055, 192pp.
Publication Date: October 1, 2007
About the Author
David Barash, professor of psychology at the University of Washington, is the author of over 20 books (among them Natural Selections, The Myth of Monogamy and Madame Bovary's Ovaries) and over 200 articles. One of the earliest proponents of sociobiology in the 1970s, now know as evolutionary psychology or evolutionary biology, he remains among its most articulate popularizers.