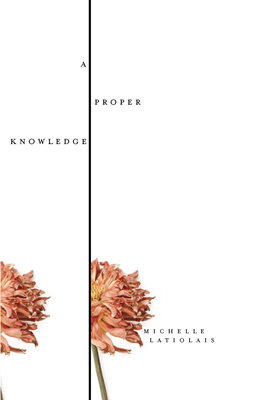 A Proper Knowledge
Hardcover

* Individual store prices may vary.
Description
"Every passionate reader lives for that first page of a book that alerts her, straightaway, she'll be sorry when the book ends. So it is with Michelle Latiolais' astonishing, sparklingly intelligent new novel...The work strives, with bold zest, to arrive at the marrow of things...Latiolais triumphs, folding the work's clinical ruminations into the story's delicious batter. Powerfully recommended."--Antioch Review
"The novel counts--in elegant and sometimes elegiac prose--the shadowy and elusive opportunities for redemption."--Ron Carlson, author of Five Skies
"A ravishing intelligence is at work in these pages."--Elizabeth Tallent, author of Honey, on Even Now
A gifted psychiatrist, haunted by the death of his young sister, seeks to penetrate the mysteries of childhood autism in this beautifully written, insightful investigation into the misunderstood pathways of the brain--and the heart.
Michelle Latiolais is associate professor and co-director of the Programs in Writing at the University of California, Irvine. Her novel Even Now won the Commonwealth Club of California Gold Medal for Fiction in 1991.
Bellevue Literary Press, 9781934137116, 208pp.
Publication Date: May 1, 2008
About the Author
Michelle Latiolais is Associate Professor, University of California, Irvine, co-director of the Programs in Writing at the University of California at Irvine, and author of Even Now, which won the Gold Medal for Fiction, Commonwealth Club of California 1991.