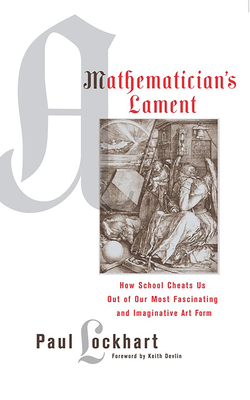 A Mathematician's Lament (Paperback)
Bellevue Literary Press, 9781934137178, 140pp.
Publication Date: April 1, 2009
* Individual store prices may vary.
Description
"One of the best critiques of current mathematics education I have ever seen."--Keith Devlin, math columnist on NPR's Morning Edition
A brilliant research mathematician who has devoted his career to teaching kids reveals math to be creative and beautiful and rejects standard anxiety-producing teaching methods. Witty and accessible, Paul Lockhart's controversial approach will provoke spirited debate among educators and parents alike and it will alter the way we think about math forever.
Paul Lockhart, has taught mathematics at Brown University and UC Santa Cruz. Since 2000, he has dedicated himself to K-12 level students at St. Ann's School in Brooklyn, New York.
About the Author
Paul Lockhart became interested in mathematics when he was 14 (outside the classroom, he points out). He dropped out of college after one semester to devote himself exclusively to math. Based on his own research he was admitted to Columbia, received a PhD, and has taught at major universities. Since 2000 he has dedicated himself to "subversively" teaching grade-school math.