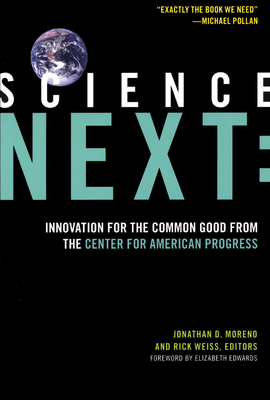 Science Next
Innovation for the Common Good from the Center for American Progress
Paperback

* Individual store prices may vary.
Description
"As we turn the page on eight years of cynical science policy in the White House,
Science Next
is exactly the book we need, with more provocative ideas per ounce than any volume you are likely to read this year."--
Michael Pollan
, author of
In Defense of Food
"
Science Next
addresses important topics in science policy in prose that is beautifully written, clear, and to the point."
--Marion Nestle
, author of
Food Politics
and
What to Eat
"
Science Next
illustrates the profound connections between science and many facets of our society. I have enjoyed hop-scotching through the book and others who are concerned about the need for evidence-based policies in government and industry will too."--
Harold Varmus
, Nobel Prize-winning author of
The Art and Politics of Science
"This elegant book lucidly covers an impressive amount of territory and sheds light on the current horizons of science. It links science and innovation policy. It bridges between the laboratory and the policy community. As such it will be invaluable to informed citizens, scientists and policy makers alike."--
John Kao,
author of
Innovation Nation
Emerging from the Bush era when right-wing ideology frequently trumped mainstream science in government, America needs bold new approaches to the most important issues of our time, such as global warming, stem cell research, national security, and improving communication in the digital age. This is the informed citizen's essential guide to science policy from the premier progressive think tank dedicated to improving the lives of Americans through ideas and action. With foreword by
Elizabeth Edwards
.
Jonathan D. Moreno
is editor-in-chief of the Center for American Progress' online magazine,
Science Progress
, and a professor of bioethics at the University of Pennsylvania.
Rick Weiss
came to CAP from
The Washington Post
, where he was a science and medical reporter for fifteen years.
Bellevue Literary Press, 9781934137185, 240pp.
Publication Date: April 1, 2009
About the Author
Editor of Science Progress, the science policy magazine of the Center for American Progress, Moreno is a Professor of Medical Ethics and of the History and Sociology of Science at the University of Pennsylvania. He is a past president of the American Society for Bioethics and Humanities and the author of 10 books including Mind Wars and Undue Risk. Weiss came to CAP from The Washington Post, where he was a science and medical reporter for 15 years. He was the lead reporter at The Post on such controversial issues as cloning and stem cells, agricultural biotechnology, and nanotechnology. He has written articles for The New York Times, The Los Angeles Times, National Geographic, Science, Discover, and other publications.