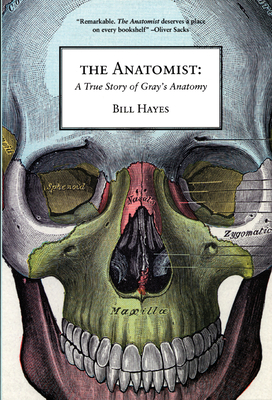 The Anatomist
A True Story of Gray's Anatomy
Paperback

* Individual store prices may vary.
Other Editions of This Title:
Hardcover (12/26/2007)
Description
"A wonderful writer, Bill Hayes tells the multi-layered story of the two extraordinary young men who produced the most famous medical text of all time - a turning point in medical history, and a continuing influence and inspiration for artists, doctors and anatomists a century and a half later. Part memoir, part biography, part guided tour into the marvels of the human body, The Anatomist deserves a place on every bookshelf. And if you do not already have a copy of Gray's Anatomy, Bill Hayes's remarkable account will surely inspire you to get one." - Oliver Sacks, author and neurologist
"All laud and honor to Hayes. In perusing the body's 650 muscles and 206 bones, he has made the case that we are . . . 'fearfully and wonderfully made.'"--The Washington Post
"Prose both lucid and arrestingly beautiful."--
Publishers Weekly
The classic medical text known as Gray's Anatomy is one of the most famous books ever created. In this masterly work of creative nonfiction, Bill Hayes uncovers the extraordinary lives of the seminal volume's author and illustrator while providing a "scalpel's-eye" view into the ingenuity of the human body.
Bill Hayes
is the best-selling author of
Sleep Demons
and
Five Quarts
.
Bellevue Literary Press, 9781934137215, 252pp.
Publication Date: September 1, 2009
About the Author
Bill Hayes is the author of the national bestseller Sleep Demons: An Insomniac's Memoir and Five Quarts: A Personal and Natural History of Blood. His work has been published in The New York Times Magazine and Details, among other publications. He has also been featured on many NPR programs as well as the Discovery Health Channel.