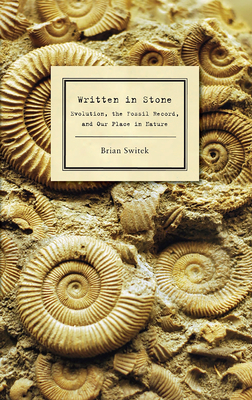 Written in Stone
Evolution, the Fossil Record, and Our Place in Nature
Paperback

* Individual store prices may vary.
Other Editions of This Title:
MP3 CD (6/14/2016)
Description
"Switek seamlessly intertwines two types of evolution: one of life on earth and the other of paleontology itself."--Discover Magazine
""In delightful prose, Switek] . . . superbly shows that ' i]f we can let go of our conceit, ' we will see the preciousness of life in all its forms."--Publishers Weekly (starred review)
"Highly instructive . . . a warm, intelligent yeoman's guide to the progress of life."--Kirkus Reviews
"Magisterial . . . part historical account, part scientific detective story. Switek's elegant prose and thoughtful scholarship will change the way you see life on our planet. This book marks the debut of an important new voice."--Neil Shubin
"Elegantly and engagingly crafted, Brian Switek's narrative interweaves stories and characters not often encountered in books on paleontology--at once a unique, informative and entertaining read."--Niles Eldredge
"If you want to read one book to get up to speed on evolution, read Written in Stone. Brian Switek's clear and compelling book is full of fascinating stories about how scientists have read the fossil record to trace the evolution of life on Earth."--Ann Gibbons
" Switek's] accounts of dinosaurs, birds, whales, and our own primate ancestors are not just fascinating for their rich historical detail, but also for their up-to-date reporting on paleontology's latest discoveries."--Carl Zimmer
After reading this book, you will have a totally new context in which to interpret the evolutionary history of amphibians, mammals, whales, elephants, horses, and especially humans."--Donald R. Prothero
Spectacular fossil finds make today's headlines; new technology unlocks secrets of skeletons unearthed a hundred years ago. Still, evolution is often poorly represented by the media and misunderstood by the public. A potent antidote to pseudoscience, Written in Stone is an engrossing history of evolutionary discovery for anyone who has marveled at the variety and richness of life.
Bellevue Literary Press, 9781934137291, 320pp.
Publication Date: November 30, 2010
About the Author
Brian Switek is a science writer and research associate at the New Jersey State Museum who has done fieldwork on fossils in Utah, Montana, and Wyoming. He has been a frequent guest on the BBC and has written about paleontology for the Smithsonian magazine, London Times, Wired Science, Eureka and elsewhere. He is also the author of the acclaimed science blog Laelaps and Smithsonian magazine's Dinosaur Tracking.