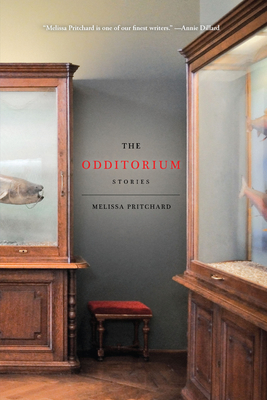 The Odditorium
Stories
Paperback

* Individual store prices may vary.
Description
"A writer at the height of her powers." ―Oprah.com
In each of these eight lyrical and baroque tales, Melissa Pritchard transports readers into spine-tingling milieus that range from the astounding realm of Robert LeRoy Ripley's "odditoriums" to the courtyard where Edgar Allan Poe once played as a child. Whether she is setting the famed figures of Buffalo Bill's Wild West Show, including Annie Oakley and Sitting Bull, against the real, genocidal history of the American West, or contrasting the luxurious hotel where British writer Somerset Maugham stayed with the modern-day brothels of India, her stories illuminate the many ways history and architecture exert powerful forces upon human consciousness.
Melissa Pritchard is the author of the novel Palmerino, the short story collection The Odditorium, and the essay collection A Solemn Pleasure: To Imagine, Witness, and Write, among other books. Emeritus Professor of English and Women's Studies at Arizona State University, she now lives in Columbus, Georgia.
Praise For The Odditorium: Stories…
An O, The Oprah Magazine Title to Pick Up Now & Oprah.com Book of the Week
A San Francisco Chronicle Recommended Book
Emotionally rich." New York Times
Weird and wonder-filled." Albuquerque Journal
Display[s] the whimsy and intelligence of a writer at the height of her powers." Oprah.com
Pritchard polishes the strange and makes it shine. . . . These are stories full of holy living creatures." San Francisco Chronicle
Melissa Pritchard's aptly titled The Odditorium considers the inner lives of the strange, the damaged and the forgotten . . . with its zest for the macabre and its time-spanning imaginative appetite . . . the singularity of her narrators remains indelible [and] shows that fiction still has the ability to shock and surprise." Washington Post
[Pritchard] takes risks, different risks in different stories. Can she write a segment in the form of a comedic Shakespearean dialogue? She can. Does a story evolve into epistolary form? It does. Will she be able to build a story around the format of an old newspaper feature? She will. Can she do it all with poetic, vivid prose? With one hand tied behind her back. Is Melissa Pritchard someone whose short fiction should be well known? Do you even have to ask?" Los Angeles Times
Pritchard's exuberant prose is perfectly suited to carry the antic freight of these often bizarre, always cerebral stories. . . . This is a fulsome compendium of ripping good yarns." Minneapolis Star Tribune
The Odditorium is a stunning read, dense and intricately woven, masterfully assembled and sensitively rendered. Pritchard's text somehow comes across as at once delicate and forceful. Her interest in historyliterary and culturalin this collection adds a depth of focus and an attention to nuance that is truly arresting." California Literary Review
Any great writer does many things at once, of course, but most lead with a particular strength. And then there is Pritchard, who simply turns all the dials up to eleven. In [The Odditorium], more than in previous works, history gives her the best playing field for her considerable energies and produces some of her most moving and satisfying stories to date." IMAGE: Art, Faith, Mystery
The rewards for a careful expedition into The Odditorium are unforgettable moments of timeless, resonant truth . . . Pritchard's descriptive talents illuminate not just the emotional depths of her characters but humanity's physical innards as well." Bookslut
Mesh[es] the surreal and metafictional with a deeply-felt humanism." Vol. 1 Brooklyn
A master of the form . . . [Pritchard's] fiction, like the best Gothic classics, makes us feel like we are traveling on a pleasant, meandering riveruntil we round the last bend and find ourselves on the edge of a waterfall, looking down into the darkest depths of the human soul." Washington Independent Review of Books
Very clever . . . all the stories carry undertones of darkness that will creep into your soul and plant their desperate seeds deep within." Historical Novels Review
Reading Melissa Pritchard's short-story collection The Odditorium is a bit like peering into a Wunderkammer, one of those magical cabinets where the rich and adventurous used to display their treasures. The beautiful, the grotesque. The odd, the charming. . . . Pritchard uses fiction to bring new life to these figuressome famous and mythologized, and others notblending the historical and the fantastical to create a collection of great charisma." Kirkus Reviews
Ladies and Gentlemen! Dreamers and Fools! Why not enter the fantastic world of wonders and horrors that is Melissa Pritchard's The Odditorium" Phoenix New Times
Melissa Pritchard's The Odditorium is as strange, wonderful, and (most important) as much fun as anything good old Robert LeRoy Ripley could ever have envisioned. Passionate, bold imaginings that illuminate the darkest, most precious reaches of our lives. Believe it: these stories are a gift." PINCKNEY BENEDICT, author of Miracle Boy
Melissa Pritchard has her GPS set to find the how it isout there and in the heartand she makes her way forward with her language on high alert. The prose is rhythmically astute, finely pitched, serving both imagination and witness." SVEN BIRKERTS, Editor of AGNI, author of The Gutenberg Elegies: The Fate of Reading in an Electronic Age
In this thrillingly protean collection of stories, Melissa Pritchard has done something profound. By imagining her way into historical moments and illuminating their shadows, she amplifies the music of history so we hear beautifully strange, wondrous notes we never knew were there. These stories resound with a fierce yet playful intelligence and a rare, magnificent generosity." MAUD CASEY, author of Genealogy
The Odditorium is a dazzling wonderment, its cast drawn from the far-flung corners of history and imagination, its language crystalline and high-voltage, its stories fearless and even visionary. Here is an irresistible curiosity cabinet of the famous, the infamous, the mysterious, the half-forgottenconjured with prodigious empathy, wit, and energy by one of our finest writers. Melissa Pritchard is a treasure and this book is her glorious trove." BRADFORD MORROW, author of The Diviner's Tale and The Uninnocent
Fueled by roofless imagination and fearless curiosity The Odditorium is a case study in how one writer's wisdom and empathy transforms known facts of existence into something more than magic. Pritchard draws from the cold, deep well of myth, legend, and history to redefine what narrative can do. Each story is a lesson in compassion. Each story is nothing short of genius. Each story was written for you." GINA OCHSNER, author of The Russian Dreambook of Color and Flight
No one is quite so brilliant at voicing the all-but-impossible-to-track interior lives of the most complex human beings as is Melissa Pritchard . . . there is so much energy and inventiveness! Her linguistic flexibility is stunning, comic and gravely substantial. At its heart is always the troubled, often confused but courageous and tenacious human heart." BRAD WATSON, author of Aliens in the Prime of Their Lives and The Heaven of Mercury
Bellevue Literary Press, 9781934137376, 256pp.
Publication Date: January 10, 2012
About the Author
Melissa Pritchard is the author of the novel Palmerino, the short story collection The Odditorium, and the essay collection A Solemn Pleasure: To Imagine, Witness, and Write, among other books. She has received the Flannery O'Connor, Janet Heidinger Kafka, and Carl Sandburg awards and two of her short fiction collections were New York Times Notable Book and Editors' Choice selections. Her fiction, essays, and journalism have also appeared in numerous magazines, textbooks, anthologies, and journals, including the Nation, Paris Review, O, The Oprah Magazine, A Public Space, Ecotone, Wilson Quarterly, and the Chicago Tribune as well as the PEN/O. Henry Prize Stories and Pushcart Prize anthologies. Emeritus Professor of English and Women's Studies at Arizona State University, she now lives in Columbus, Georgia.