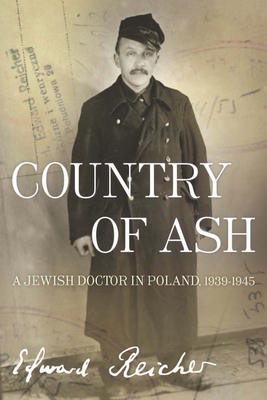 Country of Ash
A Jewish Doctor in Poland, 1939a-1945
Paperback

* Individual store prices may vary.
Other Editions of This Title:
Compact Disc (5/5/2020)
MP3 CD (6/21/2016)
Description
" Dr. Reicher] lived through the Second World War in Poland, dodging bullets, uprisings and deportations--not to mention betrayal, starvation and airless hideouts--in a manner more reminiscent of a talented outlaw than a mild-mannered dermatologist . . . It is the impressive simplicity of the good doctor's writing that makes t]his book resemble Victor] Klemperer's, and the detailed observations of its report that makes it emotionally memorable. . . . William Carlos Williams once said that people who prize information are perishing daily for want of the information that can be found only in poetry. By the same token, there will never be a time when we will not need the information that an important, evocative book like Country of Ash provides." --VIVIAN GORNICK, Moment magazine Country of Ash is the starkly compelling, original chronicle of a Jewish doctor who miraculously survived near-certain death, first inside the Lodz and Warsaw ghettoes, where he was forced to treat the Gestapo, then on the Aryan side of Warsaw, where he hid under numerous disguises. He clandestinely recorded the terrible events he witnessed, but his manuscript disappeared during the Warsaw Ghetto Uprising. After the war, reunited with his wife and young daughter, he rewrote his story. Peopled with historical figures like the controversial Chaim Rumkowski, who fancied himself a king of the Jews, to infamous Nazi commanders and dozens of Jews and non-Jews who played cat and mouse with death throughout the war, Reicher's memoir is about a community faced with extinction and the chance decisions and strokes of luck that kept a few stunned souls alive. Edward Reicher (1900-1975) was born in Lodz, Poland. He graduated with a degree in medicine from the University of Warsaw, later studied dermatology in Paris and Vienna, and practiced in Lodz as a dermatologist and venereal disease specialist both before and after World War II. A Jewish survivor of Nazi-occupied Poland, Reicher appeared at a tribunal in Salzburg to identify Hermann H fle and give an eyewitness account of H fle's role in Operation Reinhard, which sent hundreds of thousands to their deaths in the Nazi concentration camps of Poland. Country of Ash, first published posthumously in France, was translated from the French by Magda Bogin and includes a foreword by Edward Reicher's daughter Elisabeth Bizouard-Reicher.

Bellevue Literary Press, 9781934137451, 253pp.
Publication Date: April 16, 2013