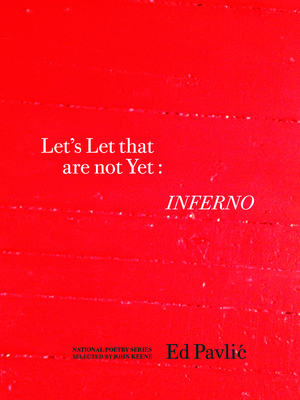 Let?s Let That Are Not Yet (Paperback)
Inferno (National Poetry)
Fence Books, 9781934200964, 96pp.
Publication Date: November 10, 2015
* Individual store prices may vary.
Description
"You've been thinking to yourself that it all feels very American." Ed Pavlic's tireless, resourceful speaker is American, of indeterminate race, implicated at every conceivable point of entry into the struggles that go on "here," which is everywhere, the Inferno of the title: "if an //analogy affects an enemy then let's let // inferno the enemy inferno the enemy."
In a "Daybook" of paper stapled together by George Oppen circa 1964, he wrote:
There is the area of Lyric--the
area in which one is absolutely
convinced that one's emotions
are an insight into reality
and death
But values--as they say--
--at a Dominican picnic, one summer back when there were only four of us, we sat on a blanket watching the band. Stacey gets up and walks away and a woman sitting with her kids and four--maybe?--sisters turns to me smiling and asks me a question in Spanish. The other women turn to look at me. I say I don't understand. She: your wife, she speaks es-Spaneesh? Me: no, not really. And she: Is she Dominican? And me: no, she's black. The women bounce looks off each other and back to me. Kids oblivious. She: jou mean black black? Me: yes, blackblack--
' the dark colour was so dark. . . '
Ed Pavlic is associate professor of English and director of the MFA/PhD program in creative writing at the University of Georgia.

About the Author
Professor of English and Creative Writing, Ed Pavlic's newest books are Let's Let That Are Not Yet: Inferno (National Poetry Series, Fence Books, 2015) and 'Who Can Afford to Improvise?': James Baldwin and Black Music, the Lyric and the Listeners (Fordham University Press, 2015). Recent works are Visiting Hours at the Color Line (National Poetry Series, Milkweed Editions, 2013), But Here Are Small Clear Refractions (Achebe Center, 2009, Kwani? Trust, 2013) and Winners Have Yet to be Announced: A Song for Donny Hathaway (U Georgia P, 2008). His other books are Paraph of Bone & Other Kinds of Blue (Copper Canyon, 2001), Crossroads Modernism: Descent and Emergence in African American Literary Culture (U Minnesota Press, 2002), and Labors Lost Left Unfinished (UPNE/Sheep Meadow Press, 2006).
or
Not Currently Available for Direct Purchase