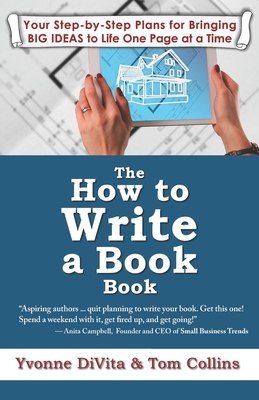 The How to Write a Book Book
Your Step-by-Step Plans for Bringing BIG IDEAS to Life One Page at a Time
Paperback

* Individual store prices may vary.
Description
You might be surprised at how much the process of building a house can teach us about writing, designing, and publishing a book. Authors Yvonne DiVita and Tom Collins combine decades of experience in both house building and book building to share with you in this insightful, inspiring, and yet practical how-to book.
From foundation to flooring, from fixtures to furnishings, they reveal how the steps in a home construction or renovation project give us important guidance on the essential sequence to follow from your idea to your first book signing appearance Part 1 lays out the steps and shows how the seemingly disparate kinds of work really do correlate.
Part 2 examines each step in building a quality book in depth, with lots of practical tips from these two book publishing veterans.
Then, in Part 3, they treat you to more than a dozen "Stories from the Trenches" by a group of published authors they've gotten to know over the years, including Guy Kawasaki, Ellen Langas, Robert W. Bly, Michele Miller, Andrea Learned, and Dick Richards, to name a few.
You'll come away knowing not just how to write your book, but how to publish and market it, too. And with a new confidence that you can become "the author of ..."
Raves from the galley readers:
"Aspiring authors ... quit planning to write your book. Get this one Spend a weekend with it, get fired up, and get going "
- Anita Campbell, Founder and CEO of Small Business Trends
"A great primer for bringing authorial dreams to life The authors' analogy to building a house is a great way to frame the need for conscious planning, solid foundations, and creative design in creating a successful publication."
- Katherine McGraw Patterson (KP), Business Strategy, Speaker, Founder of WEBO Network, author of Lunching with Lions: Strategies for the Networking-Averse
"A gem Covers all the bases with wonderful, vital, essential insights and tips for producing your book."
- Lonnee Rey, host of the "Midlife My Ass, I'm just getting started " podcast, and #1 International Best-Selling author of Life lessons learned from a lousy mother
Wme Books, 9781934229385, 202pp.
Publication Date: August 5, 2020