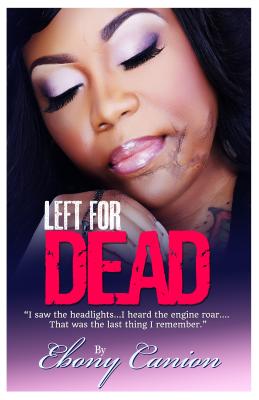 Left for Dead (Paperback)
Life Changing Books, 9781934230596, 202pp.
Publication Date: February 3, 2014
Description
Imagine having your innocence stolen at an early age by someone you trust, or struggling financially before even knowing the meaning of the word "struggling." Ebony Canion has had her share of tumultuous events, yet even she was stunned when a speeding car hit her intentionally, dragging her through the streets with her body folded underneath the vehicle. In a coma for nearly two months, Ebony had no idea her tongue and face had to be sewn back on, or the list of thirty other life-threatening injuries she had sustained. Ebony didn't know she'd been "Left for Dead." In this horrifying first-hand account of a survivor, Ms. Canion delivers a riveting story about overcoming tragedy throughout her childhood, and developing the will to live after numerous attacks on her life. Her unimaginable determination to walk, talk, and eat again will leave you spellbound and inspired. Her scars tell a story that must be heard and will have you never wanting to complain again.
About the Author
Ebony Canion is no stranger to adversity. In fact, her countless traumatic experiences in her childhood and adulthood have molded her to be strong, resilient, and faithful, in short-a survivor. But on that fateful day, June 30, 2012, her strength was tested more than ever before. Run over, then dragged for nearly two hundred feet, Ebony Canion was left for dead. She sustained multiple serious injuries and was in a coma for almost two months. But keeping with the pattern of her life, Ebony's spirit of faithfulness was bent but never broken. And it was then, healing in the hospital, that Ebony decided to share her story with the world. As an inspiration to all who know her, Ebony's will to overcome, more importantly to survive, is unparalleled. She now empowers others and encourages them to let their scars tell their story. Ebony wants to show people all over the world that despite your scars-your journey and disappointments-they tell a story. Ebony's scars show that no matter what situation she is confronted with, she will survive. Her book, Left for Dead (Jan, 2014), will show that despite her many obstacles, she will never be defeated-she will survive.
Advertisement