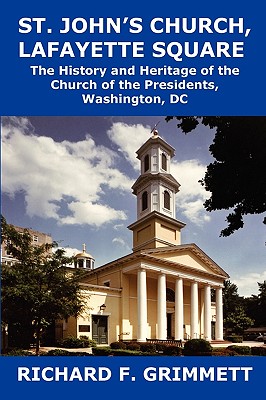 St. John's Church, Lafayette Square
The History and Heritage of the Church of the Presidents, Washington, DC
Paperback

* Individual store prices may vary.
Description
St. John's Episcopal Church, Lafayette Square, in Washington, DC is one of the most unique churches in the United States. A National Historic Landmark, located just north of Lafayette Square, and in clear view of the White House, it has witnessed the presence within its walls of more notable civilian and military leaders of the United States than any other church in the nation. Apart from the White House, St. John's Church is the oldest building adjacent to Lafayette Square. It was designed, and its construction supervised, by Benjamin Henry Latrobe, a leading architect of the early national period. From its opening in October 1816, every person, beginning with James Madison, who has held the office of President of the United States has attended St. John's at least once. Several Presidents have been members. Thus, St. John's is called "the Church of the Presidents." A significant number of members of St. John's, past and present, have played very prominent roles in the public life of the United States and the city of Washington, DC. This book tells the story of this historic church from its origins to the present, while chronicling notable services held at it, and key events in the lives of distinguished Americans who were personally connected with St. John's during their residence in Washington.

REVIEWS
The first thing to note about this marvelous history of St. John's Church is the research. From start to finish the facts are meticulously assembled and clearly laid out to the reader. This alone makes the book worth reading. But it is far more than a collection of facts. It is the story--or rather the stories-- of St. John's Church that makes this book stand out as a true gem with very few equals in the annals of Church History.

--Harry S. Stout Jonathan Edwards Professor of American Religious History Yale University


Sited importantly on its corner across from the White House, St. John's Episcopal Church has served both the famous and Everyman without interruption for nearly 200 years, its architectural evolution an index of the development of the capital itself. Historian Richard Grimmett tells the story of the "Church of the Presidents" in "St. John's Church: Lafayette Square" with the painstaking accuracy of an experienced researcher. Flavored with personalities and rich anecdotes, this book begins life as a Washington classic.

--William Seale Editor, White House History author of "The President's House: A History."


Because St. John's Church has been so closely associated with presidents, cabinet members, powerful insiders and Washington society ... anyone interested in the compelling historical details of a slice of Washington life would want to add the book to his or her library.

--Mary O. Klein Archivist, Episcopal Diocese of Maryland.

Mill City Press, Inc., 9781934248539, 360pp.
Publication Date: June 1, 2009