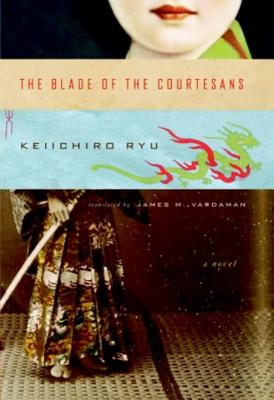 The Blade of the Courtesans (Hardcover)
Vertical, 9781934287019, 301pp.
Publication Date: May 1, 2008
* Individual store prices may vary.
or
Not Currently Available for Direct Purchase
Description
This Naoki Prize-nominated historical thriller marked the auspicious debut of late-blooming author Keichiro Ryu, who in five years made a name for himself as a master of period novels. In The Blade of the Courtesans, a young samurai by the name of Seichiro Matsunaga, trained in swordfighting by non other than the legendary samurai Musashi Miyamoto, finds himself in Yoshiwara (the pleasure quarters of old Tokyo), per Miyamoto's dying wishes. In Yoshiwara, Seichiro finds himself defending its denizens against what may be spies from the Yagyu Clan, including one young woman named Oshabu, whose story runs deeper than still water suggests.
The Blade of the Courtesans is at once a quiet ode to human liberties in the face of political warfare and edge-fo-your-seat swordfighitng, a Japanese counterpart to the romantic adventures of the medieval knights whose chivalry is rivaled only by their prowess at battle.
About the Author
Keiichiro Ryu made his name as an author of historical fiction in a career that lasted only fivers, until his untimely death, Though coming late into the publishing scene, he was no novice to the subject of his life's work, which centered around the Edo Period of Japan (roughly 1600-1868). The Blade of the Couresans was his debut work, set in Yoshiwqara (the pleasure quarters) of old Tokyo. Ryu graduated from Tokyo University with a degree in Buddhist literature and went on to become an assistant professor at Chuo University. During the Second World War he fought in China as an army cadet. Upon returning he filled an editiorial position at Tokyo Sogen Publishing. Under the alias Ichiro Ikeda, Ryu wrote several screenplays, and when he made his fiction debut with The Blade of the Courtesans, he was nominated for a Naoki Prize, the Japanese equivalent of the Pulitzer Prize.
Praise For The Blade of the Courtesans…
"deeply immersive and engrossing..." --Serdar Yegulap, Genji Press
Advertisement