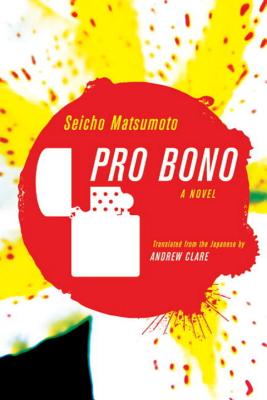 Pro Bono (Paperback)
Vertical, 9781934287026, 192pp.
Publication Date: July 3, 2012
Description
When Kiriko Yanagida first came to Otsuka's law offices, she had only a familial conviction of her brother's innocence despite his confessing to the murder. To the high-profile (and high priced) lawyer Otsuka, this small-town girl's belief was nothing more than naive hope, so he sent her away, advising her to find a local lawyer or something. Now, Kiriko plots to avenge her brother -- entirely pro bono.
About the Author
Seicho Matsumoto (1909 - 1992) Native of Fukuoka Prefecture and prolific writer of socially oriented detective and mystery fiction, Matsumoto debuted as a writer after reaching the age of forty with the historically based Saigo Takamori Chits, 1950 and The Legend of the Kokura Diary, 1952. He then went on to establish his unique style of detective fiction with the works The Walls Have Eyes, 1957 and Points and Lines, 1958. Matsumoto made a name for himself as the writer of suspense novels that were accesible to all kinds of readership, but it was his historical novel The Ogura Diary Chronicles that earned him The 28th Akutagawa Prize, the Japanese equivalent of the Pulitzer Prize. The popular Japanese TV show "Black Leather Notebook" was based on his novel of the same name, and several of his detective fiction works have been published in the US (SoHo Crime and Kodansha International). The Matsumoto Seicho Memorial Museum in Kitakyushu City has commemorated the life and work of Seicho Matsumoto since 1998.
Praise For Pro Bono…
"A master crime writer...Seicho Matsumoto's thrillers teach Japanese strategy!"--The New York Times Book Review

"Seicho Matsumoto combines the prolific output of a Rex Stout with the literary qualities of Elmore Leonard."--San Francisco Chronicle
Advertisement