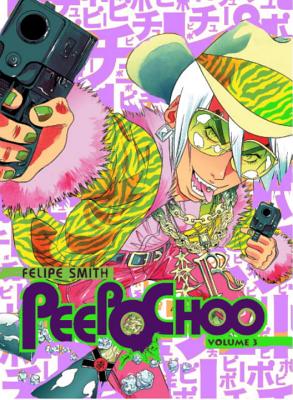 Peepo Choo, Volume 3 (Paperback)
Vertical, 9781934287347, 256pp.
Publication Date: December 14, 2010
* Individual store prices may vary.
or
Not Currently Available for Direct Purchase
Description
In this final volume of Peepo Choo, Milton and Reiko begin to develop their own dialog. Milton has begun to understand that there is much more to appreciate about this culture than he imagined. He also realizes that there was nothing wrong with being who he is as long as he is being earnest. Sure that might isolate him in certain conditions, but it may also prove to be charming; as in the case with his new friend Reiko. Reiko's views on American people also begin to change. People are who they are no matter where they hail from, and while the media and geo-political issues may influence subcontext it does not change individual personalities. She knows what she wants and she is willing to do whatever possible to achieve her goals in life. Her future might not be in Japan. They might not be in the US. But she will clearly be looking forward to a future where she is judged on her merits and talents with equity and honesty. Together they have much of that, but they are also very young. The future has many options for these two. So when they part ways at the end of this trip, one has to wonder...Will they ever see each other's home the same way again?
About the Author
Felipe Smith was born in 1978 in Ohio. Raised in Buenos Aires, Argentina, Felipe comes from the most unlikely of backgrounds for a manga artist published in Japan. Educated in an international school, while other kids where playing soccer and basketball, Felipe was considered the school's artist. Upon moving to the US for college, Felipe studied at Chicago's Institute for the Arts where he was exposed to a number of art styles and forms of visual animation. Influenced early by the hyper-real designs found in Heavy Metal and later on by cartoon styles found in Japanese animation, Felipe's art style is a unique blend of East and West that is destinctively Felipe. Felipe work has been published by IMAGE and TokyoPop; with his first serialized comic MBQ receiving critical acclaim. Felipe went on to win a number of comic awards, eventually earning him international attention. Now working in Tokyo, Felipe is currently developing his second series this time for Morning Japan's leading comic anthology.
Praise For Peepo Choo, Volume 3…
"There's a terrible sameness to a lot of manga... Felipe Smith brings to it a unique vision, his raw, intentionally ugly art perfect for a culture clash comedy of extreme bad manners. It amply demonstrates how loving another country's culture isn't the same as actually understanding it." —ICv2

"I get the sense that, if he couldn't draw, Felipe Smith would like to make a living repeatedly punching people in the face, pausing only long enough to make sure they got the joke. Fortunately for us, he can draw—he draws like a damn demon, that one. His art is an assault, seemingly stripped of subtlety. It is full-bore satire, and he wields it like a machete… Don't get me wrong, this isn't 'merely' satire. Smith does care about one thing—his story and his characters. Especially his characters. He loves them even as he lampoons them. 9.5/10" —Comics Village

"Smith creates characters so expressive you can feel their pain. See the amusement, disgust. He has a versatility that allows him to portray drop-dead serious (even grisly at times) moments, and then segue to light-hearted, deranged innocence. If he has a parallel I can't quite figure it out." —The Comic Panel

"There's a glint in its eyes as it launches one charged, cartooned image after another... Smith's work doesn't need much comparison to Japanese or American comic book traditions because he has an understanding of how comics work that allows him to tell stories in his own way... No one comes out looking well, but geeks come in for an especially brutal brow-beating in this savage aversion therapy, with their fantasies warped into hairy, misproportioned sexualized images." —Ain't It Cool News

"A mere plot summary does nothing to convey the gleefully mean-spirited anarchy of Peepo Choo. Smith's opus overflows with violence, sex, cruelty, and general bad taste, all drawn in a rubbery, cartoony style and presented with relentless manic delight... I have yet to meet a person who's worked in the anime and manga industry who doesn't love it." —Shaenon Garrity, Author of Skin Horse and guest writer for About.com

"I was entertained by this comic; it's got energy, the gross parts can get really funny, and its extravagant accumulation of mean doodles representing hapless international / interpersonal misunderstandings eventually forms a pleasingly nightmarish vision of all-out war among insular cliques absolutely certain they've got the world all figured out." —Joe McCulloch, Comics Comics
Advertisement