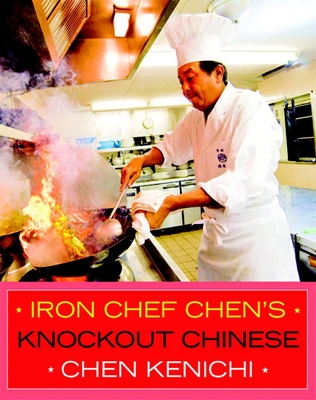 Iron Chef Chen's Knockout Chinese (Paperback)
Vertical, 9781934287460, 111pp.
Publication Date: May 26, 2009
* Individual store prices may vary.
or
Not Currently Available for Direct Purchase
Description
Iron Chef Chen's Knockout Chinese presents more than 50 easy-to-prepare recipes using the signature unique approach of a true Iron Chef. Subjects and dishes include: Easy-to-make side dishes:
Steamed garlic shrimp / Grilled mushroom with sesame sauce / Honey flavored chicken wings Dining for One:
Egg soba noodles / Fried pork over rice / Spicy spaghetti with broccoli Dinner from Leftovers:
Leftover vegetables and pork stir fry / Tossed grilled pork and onion / Cream of broccoli Sichuan Style:
Spicy Tofu / Beef and vegetable stew Favorites:
Tossed tofu and spring greens / Chinese style steak Fried Rice and Soup:
Five-ingredient Fried rice / Rice soup / Steamed pork soup Fresh Fruits:
Fried banana balls with honey / Cherry and shrimp stir fry / Apple and pork fry Seasonal Dishes:
Asparagus and chicken stir fry / Large pepper stir fry / Chestnut and chicken stir fry Chinese Desserts:
Sweet cinnamon rice balls / Apple and coconut milk / Pomegranate jello.
About the Author
A Chinese of Japanese nationality born January 5, 1956 in Tokyo, Japan, Chen Kenichi is best known as the Iron Chef Chinese on the original Japanese Iron Chef television series. He is the only Iron Chef to have held his position on the show throughout its 6-year run. As the son of Chen Kenmin, who is regarded as the father of Sichuan cuisine in Japan, Kenichi is often compared to his father on the series, with some saying that Iron Chef helped the son exceed the skills of the father. Despite the fact that he is the only lifetime and longest-serving Iron Chef, Chen had considered leaving the show on several occasions. Among his reasons was the desire to tend to his restaurants--which, unsurprisingly, had become fully-booked everynight since the show's beginning--as well as suffering a bout of depression following the death of his mother. It was fellow Iron Chef Hiroyuki Sakai who convinced Chen to stay, both agreeing that should one leave, so would the other. Because of his long tenure, Chen has fought more battles than any other Iron Chef--a whopping 92 in all--with a win/loss record of 67223, including a record 14 consecutive victories.
Advertisement