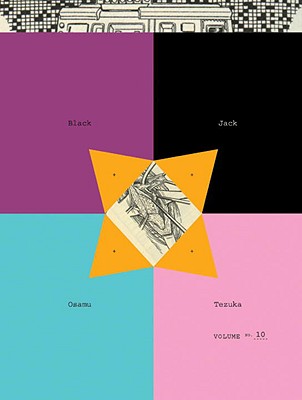 Black Jack, Volume 10 (Paperback)
Vertical, 9781934287743, 320pp.
Publication Date: March 23, 2010
* Individual store prices may vary.
or
Not Currently Available for Direct Purchase
Description
Black Jack is a mysterious and charismatic genius surgeon who travels the world performing amazing and impossible medical feats.  Though highly trained, he freelances without a license because he disdains the medical establishment. This leads to run-ins with the authorities and unscrupulous, sometimes criminal, individuals.  Because Black Jack keeps his true motives secret, his ethics are perceived as questionable and he is considered a selfish, uncaring devil my the medical industry.  The Black Jack series is told in short stories.  Volume 10 will contain 14 stories, each running approximately 20 pages in length.  This tenth volume includes the following stories:The Most Beautiful Woman in the World-- Given Black Jack`s profession it is not unusual for the unlicensed surgeon to get requests for house calls at least opportune times of night.  While his prices are negotiable he is always on-call, ready to provide services twenty-four hours a day and seven days a week.  But on this particular night, it is not Black Jack who is called for his services.  This time the person on the phone is calling for someone named Kuroo, and instead of calling in a panic, this caller wants to have some chit-chat before detailing where Kuroo`s services will be needed. Blood Relations--After his last tirp to Macau Black Jack was not looking forward to returning to the Portugese colony.  Unfortunately he receives another call from the penninsula, but this time from his step-mother.  "Tezuka spins an entertaining, slightly preposterous yarn, serving up more plot twists, car chases, and gender-bending costume changes than Dressed to Kill and The Manchurian Candidate combined." --PopCultureShock"You'll stare at the page, eyes popping and muttering, 'I cannot believe I just read that.' But you did, and it worked, and you turn the page." --Comic World News
About the Author
Osamu Tezuka was born on November 3, 1928, in Osaka. He grew up in an open-minded family exposed to comics and Walt Disney. As a boy he also had a love for insects, which he would later as a grown-up incorporate into pen name. Having developed an intense understanding of the preciousness of life from his wartime experience, Osamu Tezuka aimed to become a physician and later earned his degree in medicine, but ultimately chose the profession he loved best: manga artist and animated film writer.

Tezuka's manga and animated films had a tremendous impact on the shaping of the psychology of Japan's postwar youth. His work changed the concept of Japanese comics, transforming it into an art form and incorporating a variety of new styles in creating the "story cartoon." Osamu Tezuka lived out his entire life tirelessly pursuing his efforts, passing away at the age of 60 on February 8, 1989.

In all, Tezuka produced more than 150,000 pages of graphic storytelling before his death.
Advertisement