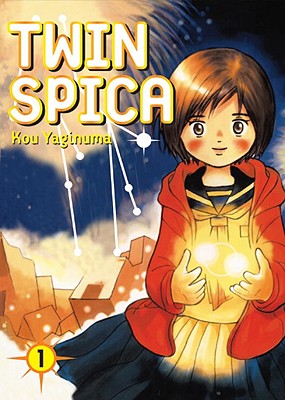 Twin Spica, Volume 1 (Paperback)
Vertical, 9781934287842, 188pp.
Publication Date: May 4, 2010
* Individual store prices may vary.
or
Not Currently Available for Direct Purchase
Description
In a Tokyo in the not too distant future a young girl studies deligently with ambitions of soon attending space academy. If things work out just right, her future may very well be among the stars as well. And yet, every time she looks up to the stars there is a sense of melancholy in her heart. A sadness surrounds Asumi, as space exploration itself has profoundly impacted her life for as long as she can remember. But she is not alone...A young man wearing a lion's mask is always beside her. He speaks of the constellations and galaxies as if he they were like home. He knows what it is like to love the stars--slightly bitter and yet always so warm and inviting. Truth is he has gone through much of Asumi is just experiencing. And now in spirit he will forever be with Asumi guiding her on her path to space.
About the Author
Born in 1973 in the Iidabashi district of Tokyo, comic artist Kou Yaginuma made his debut with the Twin Spica pilot story The Fireworks of 2015 (originally published in the July 2000 issue of Media Factory's Comic Flapper magazine). That heartfelt story coupled with Yaginuma's warm artwork won the young artist won over many comic fans on his way to becoming the year's biggest new artist. He followed his debut with a follow up mini-series called Asumi focusing on the early childhood of Twin Spica's young heroine Asumi Kamokawa. The Asumi series was such a runaway success Media Factory signed Yaginuma up to pen Twin Spica for Comic Flapper in the Fall of 2001. Since Twin Spica's debut, Yaginuma has drawn promotional illustrations for the NHK, Japan's PBS. He has also worked with Japan's brightest young animation director Makoto Shinkai drawing the cover art for the novelization of Shinkai's internationally recognized one-man CG movie Voices of a Distant Star. Twin Spica is Yagunuma's English language debut.
Praise For Twin Spica, Volume 1…
A Publishers Weekly Big Graphic Novels for 2010 selection!

"Twin Spica is told with an uncommonly graceful blend of optimism and melancholy. Artist Kou Yaginuma takes his sci-fi premise seriously, and he treats his characters with warmth and intelligence. Strongly recommended."--The Comics Reporter

"Twin Spica is a pleasantly unexpected tear-jerker that hits the nostalgia key for those of us of a certain age who wanted desperately to go to space camp, even after the Challenger explosion."--Erin Finnegan, Zero-Gravity Bride & Publishers Weekly

"[Yaginuma]'s work fuses Twin Spica with both a sense of childhood nostalgia as well as encouragement to venture beyond. Replace 'space exploration' with the goal of your choosing and you have the recipe for an inspiring parable of progress… It's refreshingly divergent from the majority of the manga on shelves at the moment."—Otaku USA

"Twin Spica is grounded in realism, and takes slow, purposeful steps in laying out its story, illustrated in a classic style that avoids both outrageousness and cutesiness. Because the work is a natural charmer with a protagonist you care about deeply shortly after the outset, this first volume gets you hooked in no time; the remaining 15 can't come out fast enough." —Bookgasm

"Kou Yaginuma has created a fascinating alternate future for Japan, where tragedy becomes the foundation of both the protagonist's story and her country's entry into the space race… Asumi's single-minded dedication to her childhood dream is admirable. As soon as I finished this book, I found myself already longing to read more."—i ♥ manga!

"With art that would make Studio Ghibli proud, this story moved and impressed me. I look forward to more volumes from this series with anticipation. A+" —About Heroes

"Twin Spica may be the book to really keep an eye on this year." —Wednesday's Haul

Advertisement