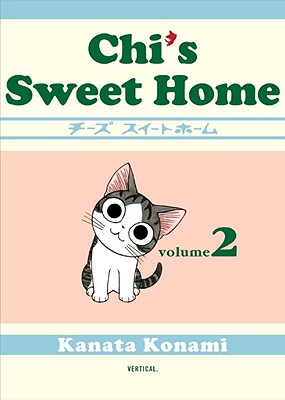 Chi's Sweet Home, Volume 2 (Paperback)
Vertical, 9781934287859, 154pp.
Publication Date: August 24, 2010
* Individual store prices may vary.
or
Not Currently Available for Direct Purchase
Description
In the second volume of Chi's Sweet Home, Chi's new world slowly begins to grow. As Yohei Yamada grows up it is rapidly becoming apparent to his parents that Chi grows up twice as fast Now moving into the feline version of the terrible twos, Chi's increasingly curious and independent behavoir begins to wear on each member of the Yamada household. Mom's flowers are being shred. Dad's sick and little Chi needs to play with him after lunch every day. And when Yohei doesn't share his toys, Chi begins to use her fangs and claws on her best friend
Lesson learned--cats are cute, but they can be equally scary.
About the Author
Konami Kanata (pen name used by Kanata Konami) was born on July 3, 1958, in Nagano, Japan. A veteran manga artist Konami made her professional debut in 1982 with the serialized comic Petit Cat Jam-Jam for Kodansha's semenal shoujo manga magazine NakaYoshi. The daughter of an elementary school teacher, most of Konami's stories are for readers of all ages making her one of the most accessible artists in recent history. In her nearly thirty year career, Konami has penned more than a dozen comic series, with the majority of them focusing on cats and pets. Konami is well regarded within the pet-manga community for her keen sense of cat ecology. Her ability to observe and render feline behavior has earned her respect from the Japanese manga community as a whole. While most of her properties were published for a younger female demographic, her most recent series Chi's Sweet Home is currently being published by Kodansha's Morning magazine, Japan's leading comic magazine for adult readers. Proving that quality can be found even in the cutest of sources. Chi's Sweet Home will be Konami's first translated work.
Praise For Chi's Sweet Home, Volume 2…
A Publishers Weekly Big Graphic Novels for 2010 selection!
 
 
"Chi's Sweet Home seems to have that feline je ne sais quoi that could fill a niche in the existing market." --Comics Reporter
 
 
"Chi's Sweet Home has been a fan-favorite for a while...Now American manga readers (and cat lovers) will get a chance to enjoy this wonderful manga." --About.com
Advertisement