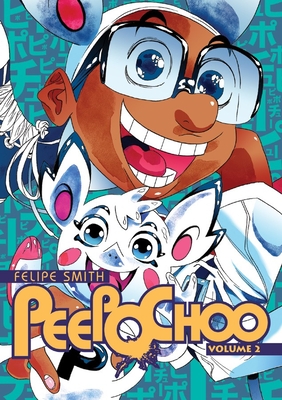 Peepo Choo 2
Paperback

* Individual store prices may vary.
Description
The version of Tokyo Milton is now witness to is nothing like what he saw in his favorite cartoons and comics. While he has seen brief flashes of the futuristic and techonogically advanced Japan seen in the media, he has not experienced the side of Japan COOL that pop culture circuits have been promoting back in home. Instead Tokyo is a bustling and surprisingly quiet megaopolis where salarymen are seen more often than cosplayers, and no one seems to have read the Peepo Choo manga. What's more, those who do read comics, and they come from every age group and demographic there, are reading comics about sports heroes, office employess, wine tasters and politicians instead of ninjas and giant robots.

How could this Japan also be the same Japan that has talking toilets? "And how can a country of freedom and independence built by immigrants be so racist and sexist," says Milton's new Japanese acquaintence Reiko. She grew up loving the concept of America. In her mind it was nothing like the patronist society that is modern day Japan. However, whenever she would meet Americans in Tokyo or chat with them online, all she got was abuse. Women would treat her coldly; men would immediately hit on her. In a way the people of America are worse than the Japanese, as they are more open with their rude behavior. 

Somewhere between these two young people there is a commonanlity of culture clash. And it is that which will bring the two together in a mutual understanding of each other's culture and one another.
Praise For Peepo Choo 2…
"Now that Smith is producing works for a Japanese audience under the editorial guidelines of Kodansha--doing what Paul Pope in the 1990s ultimately could not do--it's going to be fascinating to see how his already amazing talents change and grow."--Jason Thompson, ComiXology

"I get the sense that, if he couldn't draw, Felipe Smith would like to make a living repeatedly punching people in the face, pausing only long enough to make sure they got the joke. Fortunately for us, he can draw—he draws like a damn demon, that one. His art is an assault, seemingly stripped of subtlety. It is full-bore satire, and he wields it like a machete… Don't get me wrong, this isn't 'merely' satire. Smith does care about one thing—his story and his characters. Especially his characters. He loves them even as he lampoons them. 9.5/10" —Comics Village

"Smith creates characters so expressive you can feel their pain. See the amusement, disgust. He has a versatility that allows him to portray drop-dead serious (even grisly at times) moments, and then segue to light-hearted, deranged innocence. If he has a parallel I can't quite figure it out." —The Comic Panel

"There's a glint in its eyes as it launches one charged, cartooned image after another... Smith's work doesn't need much comparison to Japanese or American comic book traditions because he has an understanding of how comics work that allows him to tell stories in his own way... No one comes out looking well, but geeks come in for an especially brutal brow-beating in this savage aversion therapy, with their fantasies warped into hairy, misproportioned sexualized images." —Ain't It Cool News

"There's a terrible sameness to a lot of manga... Felipe Smith brings to it a unique vision, his raw, intentionally ugly art perfect for a culture clash comedy of extreme bad manners. It amply demonstrates how loving another country's culture isn't the same as actually understanding it." —ICv2

"Peepo Choo is one of the smartest, cruelest, most original works I've read in ages. Thanks to Kodansha for recognizing genius when they saw it, and Vertical for knowing when to take a gamble." —Erica Friedman, The Manga Critic

"A mere plot summary does nothing to convey the gleefully mean-spirited anarchy of Peepo Choo. Smith's opus overflows with violence, sex, cruelty, and general bad taste, all drawn in a rubbery, cartoony style and presented with relentless manic delight... I have yet to meet a person who's worked in the anime and manga industry who doesn't love it." —Shaenon Garrity, Author of Skin Horse and guest writer for About.com

"I was entertained by this comic; it's got energy, the gross parts can get really funny, and its extravagant accumulation of mean doodles representing hapless international / interpersonal misunderstandings eventually forms a pleasingly nightmarish vision of all-out war among insular cliques absolutely certain they've got the world all figured out." —Joe McCulloch, Comics Comics
Vertical Comics, 9781934287927, 256pp.
Publication Date: September 14, 2010
About the Author
Felipe Smith was born in 1978 in Ohio.  Raised in Buenos Aires, Argentina, Felipe comes from the most unlikely of backgrounds for a manga artist published in Japan.  Educated in an international school, while other kids where playing soccer and basketball, Felipe was considered the school's artist.

Upon moving to the US for college, Felipe studied at Chicago's Institute for the Arts where he was exposed to a number of art styles and forms of visual animation.  Influenced early by the hyper-real designs found in Heavy Metal and later on by cartoon styles found in Japanese animation, Felipe's art style is a unique blend of East and West that is destinctively Felipe. Felipe work has been published by IMAGE and TokyoPop; with his first serialized comic MBQ receiving critical acclaim.

Felipe went on to win a number of comic awards, eventually earning him international attention. Now working in Tokyo, Felipe is currently drawing his culture clash-romance for Japan's largest publisher Kodansha in their experiemental comic anthology magazine Morning Two.