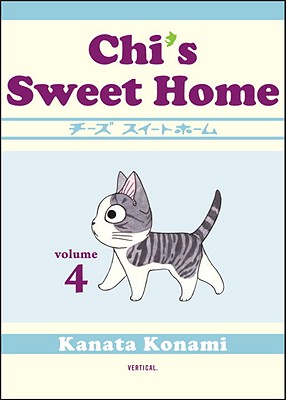 Chi's Sweet Home, Volume 4 (Paperback)
Vertical, 9781934287965, 146pp.
Publication Date: December 21, 2010
* Individual store prices may vary.
or
Not Currently Available for Direct Purchase
Description
Chi is a michievous newborn kitten who on a leisurely stroll with her family finds herself lost and alone. Seperated from the warmth and protection of her mother, desperately attempts to reunite with her family of feral cats. When the kitten feels all hope is lost, she is found in a park by a young boy named Yohei and his mother. After taking a tumble Yohei feels just as distraught as the kitten he sees before him, and he quickly takes comfort in feeling a sense of sympathy with the cat. And before she could even know what hit her, the little kitty was picked up and soon under the protection and care of Yohei's family--the Yamada's. Every moment of their daily life is filled with something we can all cherish.
In the fourth volume of Chi's Sweet Home, Youhei's actions at the end of volume three has motivated his parents to look for a new home for their kids. Chi is moving to a new address; someplace where cats can play to their heart's content without having to worry about nosey managers and mean hungry bully cats.
But moving alone will be something of an adventure for Chi. While the Yamada's can handle changing their environment now and then, for a kitten their home means much more than just a place to sleep in. When the old apartment starts to disappear, suddenly Chi starts losing all of her favorite toys and her naps spots. She knows they should be in specific places, the smell is still there, but her nappy spot is gone and so are her favorite scratching areas. And what are all those boxy things? Why are they all stacked so high up? And what's up with all the noise around them? Are there dogs behind all of this? ?
About the Author
Konami Kanata (pen name used by Kanata Konami) was born on July 3, 1958, in Nagano, Japan. A veteran manga artist Konami made her professional debut in 1982 with the serialized comic Petit Cat Jam-Jam for Kodansha's semenal shoujo manga magazine NakaYoshi. The daughter of an elementary school teacher, most of Konami's stories are for readers of all ages making her one of the most accessible artists in recent history. In her nearly thirty year career, Konami has penned more than a dozen comic series, with the majority of them focusing on cats and pets. Konami is well regarded within the pet-manga community for her keen sense of cat ecology. Her ability to observe and render feline behavior has earned her respect from the Japanese manga community as a whole. While most of her properties were published for a younger female demographic, her most recent series Chi's Sweet Home is currently being published by Kodansha's Morning magazine, Japan's leading comic magazine for adult readers. Proving that quality can be found even in the cutest of sources. Chi's Sweet Home will be Konami's first translated work.
Praise For Chi's Sweet Home, Volume 4…
A Publishers Weekly Big Graphic Novels for 2010 selection!
 
 
"Chi's Sweet Home seems to have that feline je ne sais quoi that could fill a niche in the existing market." --Comics Reporter
 
 
"Chi's Sweet Home has been a fan-favorite for a while...Now American manga readers (and cat lovers) will get a chance to enjoy this wonderful manga." --About.com

"How can [Chi] be so cute even without any sparkles in those black eyes? ...Reading Chi always makes me happy."--Moto Hagio, Shojo manga pioneer
Advertisement