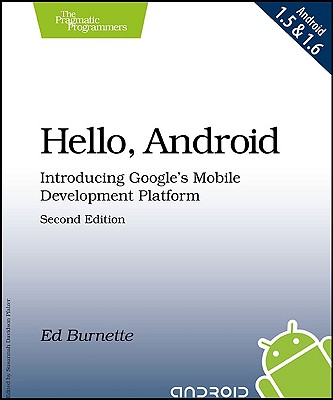 Hello, Android
Introducing Google's Mobile Development Platform
Paperback

* Individual store prices may vary.
Description
Android is a software toolkit for mobile phones, created by Google and the Open Handset Alliance. It's inside millions of cell phones and other mobile devices, making Android a major platform for application developers. That could be your own program running on all those devices.Getting started developing with Android is easy. You don't even need access to an Android phone, just a computer where you can install the Android SDK and the phone emulator that comes with it. Within minutes, "Hello, Android" will get you creating your first working application: Android's version of "Hello, World." From there, you'll build up a more substantial example: an Android Sudoku game. By gradually adding features to the game throughout the course of the book, you'll learn about many aspects of Android programming including user interfaces, multimedia, and the Android life cycle.This second edition has been completely revised for Android 1.5 (Cupcake) and Android 1.6 (Donut). Every page and example was reviewed and updated for compatibility with the new version. In addition, two new appendixes show you how to create Widgets for the Home screen and publish your application to the Android Market.If you're a busy developer who'd rather be coding than reading about coding, this book is for you. To help you find what you need to know fast, each chapter ends with a "Fast-Forward" section. These sections provide guidance for where you should go next when you need to read the book out of order.
Pragmatic Bookshelf, 9781934356494, 243pp.
Publication Date: November 1, 2009
About the Author
Ed Burnette is a software industry veteran with more than 25 years of experience as a programmer, author, and speaker. His development credits include everything from commercial video games to high-performance grid computing systems. Ed is a founding member and senior researcher at the SAS Advanced Computing Lab.Ed has authored numerous technical articles and books, including Google Web Toolkit: Taking the Pain out of Ajax and Eclipse IDE Pocket Guide. He writes the Dev Connection blog for ZDNet, and is the creator of Planet Android (http: //www.planetandroid.com).In his copious spare time, you can often find him playing video games with his two sons at their home in central North Carolina.
or
Not Currently Available for Direct Purchase