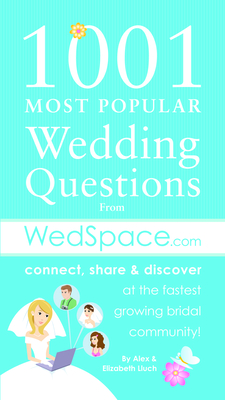 1001 Most Popular Asked Wedding Questions (Paperback)
From Wedspace.com
W S Pub Group, 9781934386880, 380pp.
Publication Date: January 1, 2010
* Individual store prices may vary.
Description
About 5 million people tie the knot each year and many of them are asking the same questions when it comes to wedding planning. 1001 Most Frequently Asked Questions from WedSpace.com compiles the most common questions brides and grooms have, based on the thousands of couples registered on WedSpace.com, the first and only social networking site for engaged couples, their guests, and wedding vendors. This book answers questions on every hot topic, from who pays for what, to understanding the responsibilities of the wedding party members, to what to budget for each aspect of the wedding.
About the Author
Alex A. Lluch is a renowned author who has written more than 200 books in a diverse range of subjects, including business, weddings, weight loss, health, fitness, babies, pregnancy, self-help and more. He has sold more than 4 million books in North America alone. Lluch is known for writing books that are very comprehensive yet extremely easy to read and understand, making them favorites of readers worldwide. He has been featured on Fox News, AOL Health, WebMD, Pregnancy Today, Parenting magazine, the Chicago Sun Times, and more.