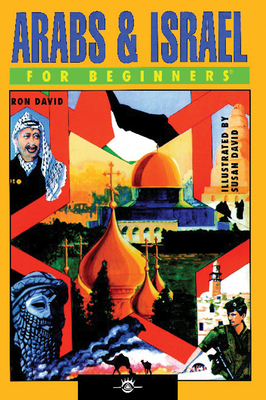 Arabs & Israel for Beginners (Paperback)
For Beginners, 9781934389164, 210pp.
Publication Date: August 21, 2007
Description
Arabs & Israel For Beginners covers the Middle East from ancient times to the present, tells the truth in plain English, and is one of the few non-scholarly books that is relentlessly fair to both Jews and Arabs. If you want to continue to believe fairy tales about Arabs in Israel, don t touch this book it will surely be hazardous to your closed mind. If you want the truth about 12,000 years of Middle Eastern History, then Arabs & Israel For Beginners is the perfect place to start.
About the Author
Ron David grew up in Detroit, attended Wayne State University and the Detroit Society of Arts & Crafts and served three years in the Army. For years he earned his living as an industrial clay sculptor (Detroit, New York, California and Sweden) and spent 20-30 hours per week writing books. Ron was awarded a Grant from the New Jersey Council on the Arts for one of his novels. He also spent four years as Editor-in-Chief at Writers and Readers Publishing. He is the author of four published books including Toni Morrison Explained: A Reader's Road Map to the Novels (Random House). Ron David has been married to Susan David (an artist/designer at Tiffany & Co.) for 30 years.
Praise For Arabs & Israel for Beginners…
"I have written 10 books about the complex Mideast conflict and read several hundred books on the same subjects. Ron David's is the best book in the field, leading all others including mine by many miles." -- Dr. M. T. Medhi, President of the Arab-American Relations Committee

"Well-organized and lucid... [Arabs & Israel for Beginners] does indeed deserve a large reading audience." -- Arthur Goldschmidt, Jr., author of A Concose History of the Middle East

"Take the research of Noam Chomsky... enliven it with skillful pensketched drawing... then trace 12,000 years of turbulent history with the irreverence of Saturday Night Live, and you have... Ron David's Arabs & Israel for Beginners." -- John Mahoney, Executive Director of Americans for Middle East Understanding
Advertisement