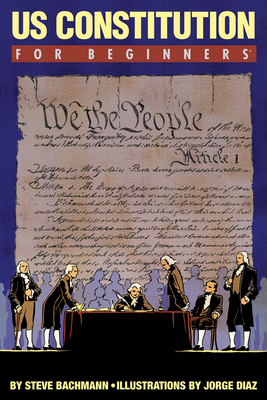 U.S. Constitution for Beginners (Paperback)
For Beginners, 9781934389621, 178pp.
Publication Date: April 17, 2012
Description
In a combination of witty text and illustrations U.S. Constitution For Beginners take a tongue-in-cheek look at America's most critical legal document. Author and lawyer Steve Bachmann has written a text that touches on the document's history beginning with the Magna Carta. He then traces the events that precipitated its writing, the personalities and motives of the people who create it, and its use and misuses since ratification.
U.S. Constitution For Beginners analyzes crucial elements of this binding set of principles and ponders the future of the Constitution as well as the role of American citizens. Though hotly debated and constantly reinterpreted, the Constitution has survived wars, industrialization, expansion and politicians.
About the Author
Steve Bachmann, AB (Harvard), MFA (UNO), JD (Harvard), now retired, has worked for social change throughout his life as an attorney for many organizations including Project Vote, ACORN, Agape Broadcasting Foundation, and SEIU Health Care Illinois and Indiana. He is also co-founder of The New Orleans Art Review. Bachmann has written scores of law review articles and several books over the years, including" Preach Liberty "(Four Walls Eight Windows, 1990); "Nonprofit Litigation "(John Wiley and Sons, 1992); and "Lawyers, Law and Social Change "(2001), published in conjunction with the ACORN Cultural Trust and Unlimited Publishing LLC. He has also published a book of literary criticism, "Extreme Proust" (2008), followed by "Unbecoming Jane, " co-published by Unlimited Publishing LLC and Harvardwood Books in early 2009.
Advertisement