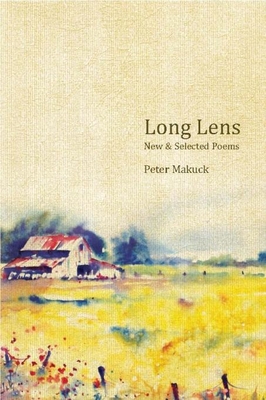 Long Lens
New & Selected Poems (American Poets Continuum #121)
Paperback

* Individual store prices may vary.
Description
"Peter Makuck sees through the detritus of daily life to what matters. . . . It's that essence that lives deep in things, looked for in people, sea- and landscapes, and creatures, that lifts the quotidian toward the marvelous, and animates this selection of poems from four decades."--Brendan Galvin
From Long Lens:
Folding laundry, I can see our clothesline
waving its patches of color like the flag
of a foreign country where I had happily lived
in a small clapboard house surrounded by pines.
I can hear my mother in her strong accent
saying she didn't want a dryer
even when we could finally afford one--
Our sheets won't smell of trees and sunlight anymore.
Long Lens represents forty years of Peter Makuck's work, including twenty-five new poems. With precise language, Makuck's imagery evokes spiritual longing, love, loss, violence, and transcendence. His subjects include the aftermath of the 1970 killings at Kent State University; scuba diving on an offshore shipwreck; flying through a storm in a small plane; rescuing a boy caught in a riptide; and lucid observations of spinner sharks, a gray fox, a spider, and a pelican tangled in a fishing line.
Peter Makuck taught at East Carolina University from 1976 to 2006, and founded Tar River Poetry. He was 2008 Lee Smith Chair in Creative Writing at NC State University. Winner of the Brockman Award and the Charity Randall Citation, he lives on Bogue Banks, one of North Carolina's barrier islands.
The Cortland Review: "The easy-going manner...of these poems should not blinker us to the fact that they are also polished and load-bearing when they seem least to be. In fact, it is as accomplished for what it doesn't do, as for what it does... it's formally adroit without being arty, and its manner invites the reader without manipulation.
Praise For Long Lens: New & Selected Poems (American Poets Continuum #121)…
"Long Lens abounds in examples of how the right moves with perspective are acts of attentiveness by which a poem's design springs from underfoot, with a reach that can take in worlds."
The Hollins Critic

"That old head–scratcher Emerson famouslysaid that we either belong to the Party of Memory or the Party of Hope. Peter Makuck, whose has been one of the happy arrivals in my mailbox this year, belongs to the former. Yet this new book will also show a man on a threedecade'slong mission to argue that as far as these parties are concerned, it's a distinction without a difference."
The Cortland Review

"The publication of a 'new and selected' edition of a poet's work is a highwater mark for the writer's careerIt's also a statment from the publisher that here is a writer whose work has passed the testing of time. In the case of Peter Makuck's Long Lens: New and Selected Poems, the poet has passed the test with flying colors."
The News and Observer.com
BOA Editions, 9781934414323, 200pp.
Publication Date: April 1, 2010
About the Author
Founder of Tar River Poetry and editor for 30 years, Peter Makuck taught at East Carolina University from 1976 to 2006. His stories, poems, reviews and essays appear in Poetry, The Nation, Hudson Review, The Sewanee Review, and The Georgia Review. He is author of four volumes of poetry, two short story collections, and co-edited a book of essays.