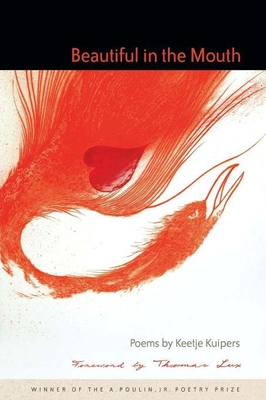 Beautiful in the Mouth (A. Poulin #32)
Paperback

* Individual store prices may vary.
Description
Thomas Lux selected this debut collection as winner of BOA's A. Poulin, Jr., Poetry Prize. In his foreword he writes, I was immediately struck by the boldness of imagination, the strange cadences, and wild music of these poems. We should be glad that young poets like Keetje Kuipers are making their voices heard not by tearing up the old language but by making the old language new.
Keetje Kuipers, a native of the Northwest, earned her BA at Swarthmore College and MFA at the University of Oregon. A Stegner Fellow at Stanford University, she divides her time between Stanford and Missoula, Montana.
From Devils Lake Journal: "Keetje Kuipers'
Beautiful in the Mouth
is at once lovely, frank, and haunting. The poems move easily between landscapes, inhabiting the American west, Paris, and New York City with equal ease and yet, they never exploit sympathies of locale for their power. Instead, they rely on nothing but the speaker's own candor, who is able to speak through such disparate poems as "Bondage Play as Substitue for Prayer" alongside "Waltz of the Midnight Miscarriage," "Reading Sappho in a Wine Bar," and "Barn Elegy" with a good spattering of honest-to-goodness sonnets." From ForeWord Reviews: "The poems move like ghosts themselves: disappearing into walls, circling back, appearing for a moment to be captured, then evaporating into thin air. Kuipers pins moments onto the page with the care of an etymologist collecting rare specimens. Her poems are at once visceral and cosmic, "a wave as well as a particle.""
Praise For Beautiful in the Mouth (A. Poulin #32)…
"The poems in Beautiful in the Mouth mostly identify themselves within a poetic register that is more tangible, emotionally sincere, linguistically straightforward and sensuous than that of the experimental lyric... Kuipers' is a poetry that demonstrates how instabilities in the contested space between lyric and narrative conventions can yield poems that teeter and slip between location and dislocation, language and silence, past and present, presence and absence."
Tar River Poetry

"The place of her poems... is truly the embodied experience in the larger world. She douses us in imagery that we can voice in our mouths and feel under our fingers."
Midtown Review

"I have no reservations at all with Beautiful in the Mouth or the poet behind it: if my praise seems even too encouraging for an unbiased review, just know that this is possibly the best book of original poetry that I've encountered since I first began reviewing books in 1998. Perhaps it is because Kuipers as a poet is much like myself in her foci of intimate affairs and broad natural landscapes, or perhaps it is because she is so skillful in crafting poems that tell stories or minister to our emotions honestly and she can do so with an impressive economy of words. She has simply impressed me... [h]ow she did this exactly, I cannot quite place into words."
CutBank Literary Magazine
BOA Editions, 9781934414330, 96pp.
Publication Date: April 1, 2010
About the Author
Keetje Kuipers is a native of the Northwest. She earned her B.A. at Swarthmore College and her M.F.A. at the University of Oregon. She is currently a Stegner Fellow at Stanford University. In 2007 Keetje was the Margery Davis Boyden Wilderness Writing Resident. She used the residency to complete work on her book Beautiful in the Mouth, which was awarded the 2009 A. Poulin, Jr. Poetry Prize. In addition, Keetje has been the recipient of fellowships from the Vermont Studio Center, Squaw Valley Community of Writers, Oregon Literary Arts, and Soapstone, as well as awards from Atlanta Review and Nimrod. Her poems have appeared or are forthcoming in Prairie Schooner, West Branch, Painted Bride Quarterly, Willow Springs, and AGNI, among others. Keetje Kuipers lives in Missoula, Montana with her dog, Bishop.