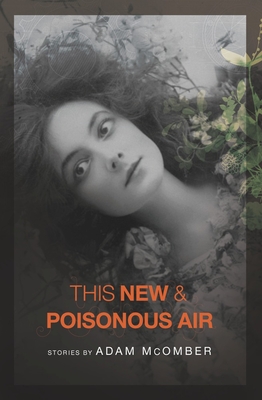 This New & Poisonous Air (American Readers)
Paperback

* Individual store prices may vary.
Description
She admits she is pleased when the new placard is raised, Madame Tussaud's House of Wax. She stands in the crowd with Fran ois at her side. He leans close enough to touch her ear with the fringe of his mustache and whispers, What part of the museum would the famous Madame Tussaud like to survey on her inaugural visit?
The Chamber of Horrors, I think, she says softly.
Really, my dear? All that grim fantasy and blood?
There is no fantasy about it, Fran ois. It is an embryo, a showing of what is to come.
Blending historical fiction with fantasy and the macabre, Adam McOmber's debut short story collection brings the influence of Angela Carter, Isak Dinesen, and Edgar Allan Poe to the next generation. In The Automatic Garden, a solitary architect from the court at Versailles builds a water-powered pleasure garden; in There Are No Bodies Such as This, we read a haunted and romantic fiction about the creation of Madame Tussaud's wax museum; in Fall, Orpheum, a small town movie palace becomes the temple for an entire town's devotion and sacrifice. McOmber seamlessly blends history, artifice, and desire to create a dream of the past that intertwines with our own notions of modern life.
Adam McOmber's stories appear in Conjunctions, StoryQuarterly, Third Coast, The Greensboro Review, Arts & Letters, and Quarterly West. He is assistant director of creative nonfiction at Columbia College Chicago and associate editor of the literary magazine Hotel Amerika.
Praise For This New & Poisonous Air (American Readers)…
"A sinuous, antiquated style proves marvelously effective in these dark and imaginative tales by author McOmber."
Publishers Weekly

"A journey through this collection feels like an afternoon peering over the dustiest shelves of a museum of curiosities. I felt studious, peculiar, and intrigued."
A CAPPELLA ZOO

"The ten stories in [McOmber's] debut collection This New & Poisonous Air are remarkable not only for their aesthetic (a thoroughly new combination of the dark and the weird) but also for the consistent quality of their writing, which allows McOmber to credibly transport his readers across both time and lines of belief."
Arts&Letters

McOmber does an excellent job of creating multilayer characters, all somehow ill-at-ease in the situations in which they find themselves thrustThe stories themselves aren't as dark or grim as I would have thought, given the comparisons to Poe, but beneath each runs a subtext that a darkness resides in us all."Historical Novel Society
BOA Editions, 9781934414514, 200pp.
Publication Date: June 21, 2011
About the Author
Adam McOmber: Adam McOmber is the assistant director of Creative Nonfiction at Columbia College Chicago where he teaches both nonfiction and literature with a focus on mythology. He is the associate editor of the literary magazine Hotel Amerika. His work has recently been published in Conjunctions, StoryQuarterly, Third Coast, The Greensboro Review, Arts and Letters, Ascent, Web Conjunctions and Quarterly West. In 2012, This New and Poisonous Air was chosen as one of NewCity Lit's Lit 50 in Chicago. McOmber holds an MFA in Fiction Writing from Indiana University. This New and Poisonous Air is his first book.