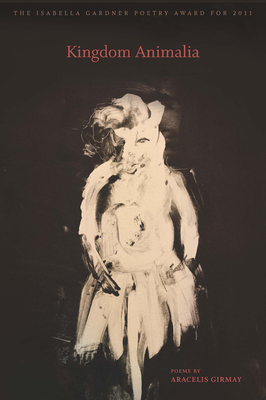 Kingdom Animalia (American Poets Continuum #131)
Paperback

* Individual store prices may vary.
Description
The poems in this highly anticipated second book are elegiac poems, as concerned with honoring our dead as they are with praising the living. Through Aracelis Girmay's lens, everything is animal: the sea, a jukebox, the desert. In these poems, everything possesses a system of desire, hunger, a set of teeth, and language. These are poems about what is both difficult and beautiful about our time here on earth.
Aracelis Girmay's debut collection won the Great Lakes Colleges Association New Writers Award. A Cave Canem Fellow, she is on the faculty at Drew University and Hampshire College. She lives in Brooklyn, New York.
Praise For Kingdom Animalia (American Poets Continuum #131)…
"Girmay has Eritrean, Puerto Rican, and African-American roots; the section titled 'a book of erased cities' brings a poignant, multifaceted sense of loss" Publishers Weekly

There is a saying in Spanish, Cada cabeza es un mundo,' which translates every mind is a universe unto itself.' And Girmay's world, universe, opens new ways of seeing the simplest things and giving them voice. Everything contains some clue of another self, body or kindred spirit. Like an archaeologist, she digs deeply finding herself in every living thing, even in the inanimate. Her magic is poetry at its best."National Book Critics Circle
BOA Editions, 9781934414620, 119pp.
Publication Date: September 20, 2011
About the Author
Aracelis Girmay: Aracelis Girmay's debut poetry collection, Teeth, was published by Curbstone Press and was awarded the GLCA New Writers Award. Her poems have, most recently, been published in Black Renaissance Noir, Gulf Coast, A Public Space, & Callaloo, among other journals. A Cave Canem Fellow, she has received grants from the Jerome Foundation and the Watson Foundation. She is this year's recipient of the Isabella Gardner Poetry Award and was recently awarded a literature fellowship from the National Endowment for the Arts. Girmay is an Acentos Foundation board member and a contributing editor for The Massachusetts Review. She also writes, occasionally, for ELEM magazine, a lifestyle and arts magazine dedicated to the concerns and interests of the Eritrean community (in Eritrea and the diaspora). For the past nine years, Girmay has taught community writing workshops in her native California and in New York. She received her MFA from NYU in 2003 and is now on the faculty of both Drew University's low-residency Poetry MFA program and Hampshire College's School of Interdisciplinary Arts. Girmay grew up in Santa Ana, California and currently lives in New York.