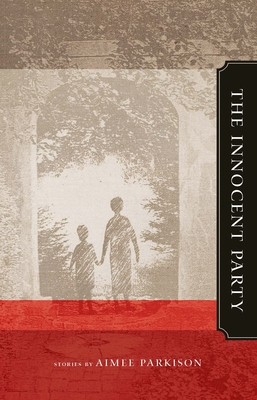 The Innocent Party (American Readers)
Paperback

* Individual store prices may vary.
Description
Parkinson's prose flows with a subtle, musical rhythm that only prose can achieve, and then rarely... Every sentence, every sentence, is exquisite.--Debrah Lechner, Hayden's Ferry Review
Aimee Parkison most often begins softly, slowly stripping away each layer of social interaction to get at what is numinous and frightening and necessary about living in the real world. These are stories both about the difficulty and the intense suddenness of human connection, about the profound link that exists between being in love and being alone.--Brian Evenson
Parkison is a storyteller, conjuring characters who harbor festering secrets, lurid urgencies, and violent compulsions. Like Joyce Carol Oates, Parkison deftly works the caricatures of Southern Gothicism into terrifying clarity."--Joseph Dewey,
The Review of Contemporary Fiction
From The Glass Girl:
On certain evenings in dark motels, she could transform her lip into the edge of the bottle, imagining her face was made of amber glass and the men paused above her only to take a drink of breath. Over the years, men drank and drank until there were only two sips left inside. They began sucking the air out of the glass that grew warm in the wrong places because of heat radiating off their hands. The men's breath along with white feathers fell over autumn winds drifting through open windows.
In this collection, Kurt Vonnegut Fiction Prize-winner Aimee Parkison's characters struggle to understand what happens when the innocent party becomes the guilty party. With magical realist flair, secrets are aired with dirty laundry, but the stains never come clean. Carol Anshaw writes, Aimee Parkison offers a distinct new voice to contemporary fiction. Her seductive stories explore childhood as a realm of sorrows, and reveal the afflictions of adults who emerge from this private geography.
Aimee Parkison has an MFA from Cornell University. She is associate professor of English at the University of North Carolina at Charlotte, where she teaches creative writing.
BOA Editions, 9781934414866, 200pp.
Publication Date: April 17, 2012
About the Author
Aimee Parkison: Aimee Parkison has received a Christopher Isherwood Fellowship, a Writers at Work Fellowship, and a Kurt Vonnegut Fiction Prize. Parkison writes and publishes fiction and poetry. She has an MFA from Cornell University and is an Associate Professor of English at The University of North Carolina at Charlotte, where she teaches creative writing. Her first story collection, Woman with Dark Horses, won the first annual Starcherone Fiction Prize and was published in 2004. Parkison's work has been nominated for a Pushcart Prize and has appeared in or is forthcoming from Hayden's Ferry Review, So to Speak, Nimrod, Tarpaulin Sky, The Literary Review, Feminist Studies, Mississippi Review, North American Review, Quarterly West, Santa Monica Review, Other Voices, Crab Orchard Review, Fiction International, Seattle Review, and Denver Quarterly.