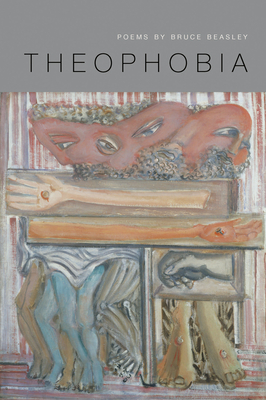 Theophobia (American Poets Continuum #136)
Paperback

* Individual store prices may vary.
Description
Theophobia is the latest volume in Bruce Beasley's ongoing spiritual meditation which forms a kind of postmodern devotional poetry in a reinvention of the tradition of John Donne, George Herbert, Emily Dickinson, Gerard Manley Hopkins, and T. S. Eliot. Theophobia is structured around a series of poems called Pilgrim's Deviations and forms a deviant and deviating pilgrimage through science, history, politics, and popular culture. Beasley seeks the Biblical Kingdom of God among Dolly the cloned sheep, the wonders and horrors of extremophilic creatures living in astonishing intensities of temperature, robotic phone operators, and Wikipedia's explanation of the mysteries of the Holy Spirit.
Bruce Beasley is the author of six poetry collections, most recently The Corpse Flower: New and Selected Poems (University of Washington Press, 2007). He has won fellowships from the NEA and the Artist Trust of Washington and three Pushcart Prizes.
Finalist for The Washington State Book Award
One of Poetry Northwest's Notable Books of 2014
Praise For Theophobia (American Poets Continuum #136)…
Beasley outdoes his five prior collections with this spiky, thoughtful, elaborate, sometimes scary, sometimes funny set of verse essays, riffs, and meditations on the idea of a Christian creator-god, and on ideas from evolutionary and molecular biology about how life comes to be Yet it's never just play: he wants answers, from divinity or from DNA, even if he believes that he will not get them, and so his variable, friable, unbalanced verse lines can morph into prayer Careful, sympathetic attention will produce pleasure in Beasley's collisions between curiosity and doubt, as the newest oddities of the life sciences, and the oddest words he can find, crash into dark fears and grapple with ancient questions."
PUBLISHERS WEEKLY *Starred Review*

"Beasley is, above all, a poet of spiritual ardor, a dyspeptic believer in the Geoffrey Hill mode ... Writing of Donne in a recent essay, Hill insists that for a certain breed of poet, style is faith, and Beasley may well be such a writer. His many allusions to the mystical esoteric Meister Eckart, Julian of Norwich, the Gnostic gospels, and the Corpus Hermeticim (not to mention plain old Bible verse) are evidence not merely of Beasley's learnedness, but also of his belief in the poem as a kind of heterodox spiritual exercise. He is a postmodern descendant of Herbert, Traherne, and Vaughn there are few contemporary poets who can keep such august company Like Robert Duncan, who was also powerfully drawn to Gnostic and Hermetic thought, Beasley's reading in mysticism has, above all, animated his lyrical acuity. He draws from these traditions not merely for their substance, but also to enhance his musical chops. And when he displays those chops, the results can be majestic a fluency and rhetorical control that no other poet of his generation can match."
DAVID WOJAHN, The Kenyon Review
BOA Editions, 9781934414910, 112pp.
Publication Date: September 18, 2012
About the Author
Bruce Beasley is the author of six collections of poems, most recently The Corpse Flower: New and Selected Poems (University of Washington Press, 2007). His previous collection, Lord Brain, an extended meditation on neuroscience, cosmology, theology, and language, won the University of Georgia Press' Contemporary Poetry Series Award and was published in 2005. Beasley won the 1996 Colorado Prize for Poetry in 1996 for Summer Mystagogia, selected by Charles Wright, and the 1994 Ohio State University Press/Journal Award for The Creation. Wesleyan University Press published his books Spirituals (1988) and Signs and Abominations (2000). He has won fellowships from the National Endowment for the Arts and the Artist Trust of Washington and three Pushcart Prizes in poetry. His work also appears in The Pushcart Book of Poetry: The Best Poems from the First Thirty Years of the Pushcart Prize, as well as other anthologies including Lyric Postmodernisms: An Anthology of Contemporary Innovative Poetries; Under 35: The New Generation of American Poets; Under the Rock Umbrella: Contemporary Poets from 1951-1977; and American Alphabets: 25 Contemporary Poets. His poems appear widely in such journals as The Kenyon Review, Southern Review, New American Writing, Field, and Virginia Quarterly Review.