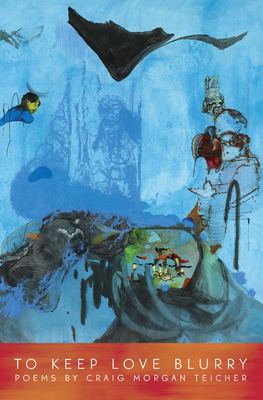 To Keep Love Blurry (Paperback)
BOA Editions, 9781934414934, 110pp.
Publication Date: August 21, 2012
Description
"The brilliance of these poems is how they renovate not only poetry but language, without pretense, without the declaration of war, without summoning the ghost of Shakespeare in any but the most charming ways. I could live in the mind of these poems and never want to leave." --D.A. Powell
"With these refreshingly human, formal, playful, and heart-wrenching poems, Teicher not only proves that form may be adapted to fit a contemporary idiom, but that he's built his own 'Life Studies' within the confessional tradition, one which pushes against his predecessors' self-aware and often selfish use of confession, successfully re-enervating the sense of a real life behind the voice." --The Rumpus
One of Coldfront's Top Ten Poetry Books of 2012, To Keep Love Blurry, "open s] a world of poems that ask obsessive questions of choice and consequence. These are poems of an interior that reimagines the past, pays tribute to predecessors, and above all, values frankness above artifice...The poems are severe in their honesty, which makes them riveting." --Coldfront
To Keep Love Blurry is about the charged and troubled spaces between intimately connected people: husbands and wives, parents and children, writers and readers. These poems include sonnets, villanelles, and long poems, as well as two poetic prose pieces, tracing how a son becomes a husband and then a father. Robert Lowell is a constant figure throughout the book, which borrows its four-part structure from that poet's seminal Life Studies.
Craig Morgan Teicher won the Colorado Prize for Poetry. He is poetry reviews editor for Publishers Weekly magazine and served as vice president on the board of the National Book Critics Circle.
About the Author
Craig Morgan Teicher is the author of Brenda Is in the Room and Other Poems, selected by Paul Hoover for the 2007 Colorado Prize for Poetry, and Cradle Book, named a Notable Book of 2010 by the Story Prize committee. His poems have appeared in the Best American Poetry, The New Yorker, The Nation, The Paris Review and many other publications. He is Director of Digital Operations and Poetry Reviews Editor for Publishers Weekly magazine and served as a Vice President on the board of the National Book Critics Circle from 2009-2012. His book reviews, features and prose pieces appear widely in many venues, including NPR, Bookforum, Slate, and the Cleveland Plain Dealer. He was founding editor of the MediaBistro blog eBookNewser and is written extensively about digital publishing. He also teaches graduate and undergraduate creative writing courses and NYU and the New School and received his MFA from Columbia University.
Praise For To Keep Love Blurry…
Although the persona in these poems toys with annihilation and (twice) with dull blades,' it survives, and does so through aesthetic will: tight sonnets, a perfect villanelle, a moving prose memoir. True self-haters,' writes the poet in Confession,' perform to empty houses, late.' That won't be Teicher's fate."Publishers Weekly
Advertisement