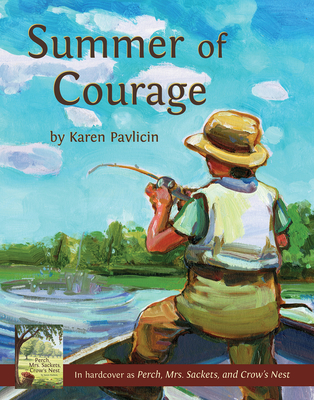 Summer of Courage (Paperback)
(Perch, Mrs. Sackets, and Crow's Nest)
Alma Little, 9781934617243, 160pp.
Publication Date: April 1, 2014
* Individual store prices may vary.
Description
" … an upbeat, positive story … wise, hopeful … with a subtle simplicity sure to touch hearts." —School Library Journal
"An enjoyable adventure of discovery … " — Midwest Book Review
"Mom called this my Summer of Courage. She said that when you need courage the most is when you realize what's happened in your life and you decide to get up the next morning anyway."

When 10-year-old Andy goes to Grandma's house for the summer, all he can think about is how much he misses his dad in heaven and his best friend, Anthony, who moved away.

In a summer filled with family, fishing, and friendship, Andy discovers what happens when you mix rotten apples with a little bit of faith.

"I closed my eyes and prayed for God to send me a sign. Any sign he was listening. He sent me perch, Mrs. Sackets, and crow's nest."
Includes crow's nest recipe, gin rummy rules, and discussion guide.

This story, originally published in hardcover as Perch, Mrs. Sackets, and Crow's Nest, has won multiple awards, including:

Moonbeam Children's Book Awards Gold

Benjamin Franklin Awards Silver
IPPY Silver
Mom's Choice Awards Silver
Children's Crown Award Finalist
NAPPA Honors Book
Book of the Year Awards Finalist
Midwest Book Awards Finalist.
About the Author
KAREN PAVLICIN is an award-winning writer of several books. She grew up in rural upstate New York, where the story in Summer of Courage (Perch, Mrs. Sackets, and Crow's Nest) takes place, and now lives in Minnesota with her family. They have an apple tree in their backyard and a cow dung clock in their kitchen.
About this book, Karen says, "One day I was thinking about my childhood and remembered our summertime ritual of cutting up those tiny, hard apples on Grandma's porch. For the first time, I realized it wasn't about the apples. Grandma was a smart woman—she kept her family all coming back to her porch every summer. At the same time, my son and I were beginning a new phase of our lives and I thought he could use a story about those apples. That's when I created Andy and his summer of courage."
Praise For Summer of Courage: (Perch, Mrs. Sackets, and Crow's Nest)…
" … an upbeat, positive story … wise, hopeful … with a subtle simplicity sure to touch hearts." — School Library Journal
 "An enjoyable adventure of discovery … " — Midwest Book Review
 " … compelling … and woven with rich memories … " — Stories for Children Magazine
 " … very worthy book for any young reader … characters are well defined and interesting. The book will capture the attention of both boys and girls." — The American Author Association
"Written in gentle, lyrical language. Very refreshing." — Kit Vaughan, librarian, Chesterfield County Public Schools, Virginia
" … shows all the beauty of life through a ten year old's eyes … A richly and simply told story." — Ellie Maresch, teacher, Minnesota
"Kids will love Mrs. Sackets's yellow polka-dotted swim suit and penchant for poetry, learning how to milk a cow and make a clock from cow dung, counting to find the fish, and all the other wonderful treasures dappled throughout this memorable story." — Glen Van Cise, pastor, Pennsylvania
" … A simple tale that reinforces the importance of friends and family." — Linda McCullough, library director, Carthage, New York
 " … addresses so nicely the real issues of loss and friendship through endearing characters and the magic of a lazy summer. It gives children a wonderful way to think about the changes in their lives and the role of their faith. A delightful read." — Pauline Lucero Esquivel, children's counselor, New Mexico
or
Not Currently Available for Direct Purchase