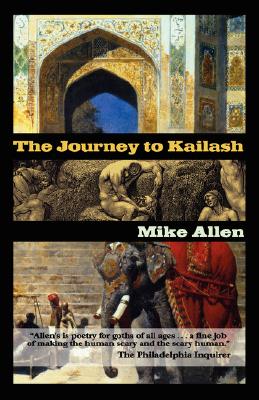 The Journey to Kailash
Paperback

* Individual store prices may vary.
Description
Mike Allen's newest collection, THE JOURNEY TO KAILASH, gathers 57 poems that explore regions sometimes whimsical, sometimes terrifying, always off the beaten trail. From the title poem, in which the down-to-earth teenage narrator discovers his mother's new husband is Ganesh, the elephant-headed Hindu god of luck; to "Manifest Density," a tongue-in-cheek celebration of materialism that dares Mankind to "play a game of chicken with the Universe"; to "The Strip Search," in which the gate of Hell functions like an airport metal detector, sounding off when a damned soul hasn't yet abandoned all Hope; to an entire cycle of surreal poems in which the paintings of such artists as Chagall and O'Keeffe become reality; Allen uses a wide range of strange subjects and skewed perspectives to examine the hopes and fears that shape our times.
Sometimes drawing from mythology, sometimes extrapolating bizarre futures, and not at all afraid to blend the two, Allen's poetry still addresses universal themes of love, loss and longing with candor and even humor.
"Mike Allen pours everything he's got onto his poem-canvases. Mythologies, science-fiction scenarios, private memories and desires, and untestable ideas crowd and overlay one another upon the pages as if flung from an overloaded brush. Here is a vividly vertiginous collection of poems, all fun and mind-games."
-- Fred Chappell
"Mike Allen is a poetic Shiva, whirling his thousand limbs to snatch gold from thin air and create these epics-in-miniature, each with its own metallic sheen."
-- Catherynne M. Valente.
Mythic Delirium Books, 9781934648452, 136pp.
Publication Date: June 15, 2008