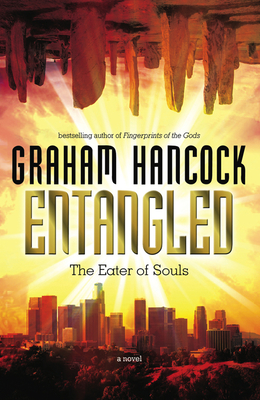 Entangled (Paperback)
The Eater of Souls
Disinformation Company, 9781934708569, 435pp.
Publication Date: August 19, 2010
* Individual store prices may vary.
Description
Graham Hancock has spent decades researching and writing some of the most ambitious and successful nonfiction investigations into ancient civilizations and wisdom. Entangled uses all of Hancock's skills and knowledge to propel a fantasy adventure like nothing else preceding it.
Entangled is a time-slip novel alternating between present-day California, Brazil, and prehistoric Spain, with two teenage female protagonists who must come together to avert an incredibly bloodthirsty takeover of the human race.
Entangled is the first book in a trilogy relating the story of an unrelentingly evil master magician named Sulpa who is on the loose and determined to destroy humanity. Leoni, a troubled teen from modern-day Los Angeles, and Ria, a young woman who lives in Stone Age Spain, meet in a parallel dimension outside the flow of time to stop Sulpa's spectacular, deadly materialization of the modern world.
Entangled rides a growing wave of interest in parallel dimensions and imaginary worlds (The Lord of the Rings, The Chronicles of Narnia, and The Golden Compass are recent Hollywood examples) and will have immediate appeal to readers of Philip Pullman, Stephen King, Neil Gaiman, and Kate Mosse, among others.
But Entangled has the added merit of being grounded in solid anthropological and scientific research. Hancock calls on his years of research into cutting-edge issues, including the "Neanderthal Enigma," the nature of consciousness, the many worlds interpretation of quantum physics, parallel realms, time travel, and near-death and out-of-body experiences.
About the Author
Graham Hancock is the author of "Fingerprints of the Gods, The Sign and the Seal, Underworld, Supernatural" and other bestselling investigations of historical mysteries. His books have been translated into twenty-seven languages and have sold over five million copies worldwide. His public lectures and broadcasts, including two major TV series, "Quest for the Lost Civilisation," and "Flooded Kingdoms of the Ice Age," have further established his reputation as an unconventional thinker who raises controversial questions about humanity's past. Written with the same page-turning appeal that has made his non-fiction so popular, "Entangled" is his first work of fiction.
Praise For Entangled: The Eater of Souls…
"Adeptly balancing a concern for harsh and complicated realities with a boundless talent for the fantastical, Hancock, author of popular history works such as the bestseller Fingerprints of the Gods, has created a fantasy realm where an epic struggle is underway.... Hancock's draw on real anthropological and archaeological information is grounding and invigorating, and his supernatural additions are both internally coherent and satisfyingly trippy." - Publishers Weekly

"[A] solid, fast-moving, metaphysical time-travel tale." - Library Journal