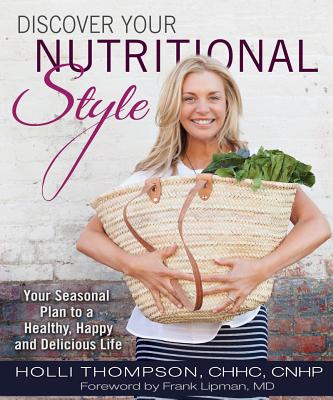 Discover Your Nutritional Style (Hardcover)
Your Seasonal Plan to a Happy, Healthy and Delicious Life
Sunrise River Press, 9781934716441, 228pp.
Publication Date: September 15, 2014
* Individual store prices may vary.
Description
"I believe that your food matters; it's your medicine, your life line, the secret to living the rest of your life in a beautiful, energized, healthful way, and I believe that we all have our own unique Nutritional Style."-- Holli Thompson
Foreword by Frank Lipman, MD
Do you want to feel good again, have abundant energy, and finally take control of your own health? Wouldn't it be nice to effortlessly release excess weight and return to your natural vibrancy and glow? It's time you make the connection between what's on your plate and how you feel. Discover Your Nutritional Style shows you the way.
Holli Thompson, CHHP, CNHP, gives you the information you need to understand how to nourish yourself in a way that's best for you, based on your individual needs and preferences. Learn what's right for you - and how what's right for you changes with the seasons and with your needs.
Drawing on her years of experience as a Certified Holistic Health Coach, Holli Thompson helps you discover what nutritional style - from Healthy Omnivore to Flexible Vegetarian to Modern Vegan - is ideal for your personal nutrition. Her flexible, seasonal approach to eating helps you modify your diet to support your health and lifestyle throughout the year.
Holli provides extensive discussions and valuable advice on how to discover your nutritional style. From there, she tells you all about foods to avoid, foods to choose, and the principles of holistic eating and personal care. In addition, Holli provides clear, sensible advice for resetting your system and doing a safe, healthy, and trouble-fee cleanse. Dozens of delicious, easy-to-make recipes using seasonal ingredients round out the book.
This book includes contributions from:
Mark Hyman, MD, author of The Blood Sugar Solution 10-Day Detox Diet, The Blood Sugar Solution, and other best-selling books on functional medicine and nutrition
Frank Lipman, MD, author of Revive: Stop Feeling Spent and Start Living Again and the founder and Director of Eleven-Eleven Wellness Center in New York City
Natalia Rose, author of the best-selling Raw Food Detox Diet, Forever Beautiful, and other best-selling nutrition books
Sarma Melngailis, author of Raw Food/Real World and Living Raw Food, and owner of Pure Food and Wine Restaurant and One Lucky Duck take-a-way in New York City.
Dr. Alejandro Junger, founder of the Clean Program and author of Clean and Clean Gut
or
Not Currently Available for Direct Purchase