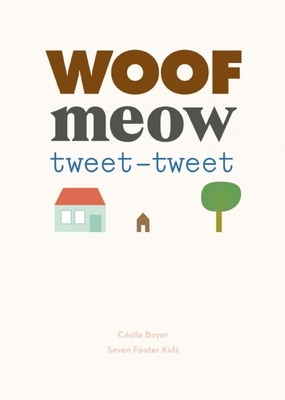 Woof Meow Tweet-Tweet (Hardcover)
Seven Footer Press, 9781934734605, 48pp.
Publication Date: May 1, 2011
Description
How well do you really know what the differences are between a dog, a cat and a bird? In this book, the magic of letters brings out the pictures. Words and sounds have taken the place of pictures to tell the inner story of dogs, cats, and birds, and their often hectic encounters. A very funny story told in a graphically-arresting new way, Woof, Meow, Tweet-Tweet will charm readers of all ages.
About the Author
Cecile Boyer is a graphic designer whose first job out of art school was helping to renovate the children's sections of the Cite des Sciences, a hugely popular science museum in Paris. Other projects have included textile design for children's wear and children's guides for a French contemporary art museum. She was born in Paris but spent a large part of her childhood in Tokyo. As a child, she loved visiting her grandfather in his modernist home in central Pennsylvania.
Advertisement