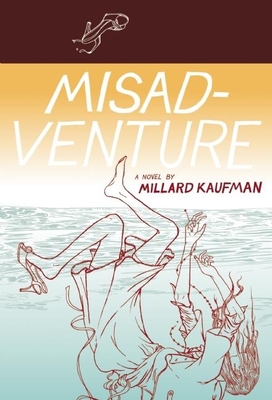 Misadventure (Hardcover)
McSweeney's, 9781934781548, 218pp.
Publication Date: March 30, 2010
* Individual store prices may vary.
Description
Jack Hopkins, an ill-fated real-estate agent with an unhappy past, doesn t like what he does for a living. Luckily, though, he has two new job offers: Darlene Hunt wants to pay him ten million dollars to kill her husband, and her husband wants to hire him to kill Darlene Hunt. Before he can figure out who to work for, though, or how a private island off the coast of Mexico fits into it all, the dead bodies have already started piling up. The second novel from Millard Kaufmannonagenarian author, Oscar-nominated screenwriter, and World War II Marine"Misadventure" is a serpentine murder mystery set against a backdrop of LA real-estate schemes, ruby-wearing femmes fatale, and more love triangles than any one man should attempt to get into. Written with a style and flair that's reminiscent of "Chinatown" by way of the Coen Brothers, it's an unforgettable addition to the genrea noir par excellence, with wit to match.
About the Author
Born in 1917, Millard Kaufman plunged into World War II on Guadalcanal as a member of the U.S. Marine Corps, then made D-Day landings on Guam and Okinawa. He co-created the beloved Mr. Magoo and was twice nominated for screenwriting Oscarsin 1954 for "Take the High Ground!" and in 1956 for the legendary "Bad Day at Black Rock." His first novel, "Bowl of Cherries," was published by McSweeney s in 2007.

"
Praise For Misadventure…
"[Misadventure] is a terrific California hard-boiled tale. Savvy readers will recognize and relish the Double Indemnity-like terrain of Kaufman's tale. Misadventure, which brims over with black humor and terse dialogue, gives new meaning to the Bette Davis line, 'Old age ain't for sissies.' Kaufman, who as a Marine fought at Guadalcanal and then later tackled novel writing in his twilight years, was no sissy."
Maureen Corrigan, NPR

"Misadventure contains all the quick-fire, lingo-saturated dialogue of David Mamet's Glengarry Glen Ross with the twisting plot arcs of a Coen Brothers noir. Millard Kaufman, one of the creators of the Mr. Magoo cartoon character, weaves a story full of distinctive oddities, mystery worthy of Hitchcock, humor, and overdrawn characters (in the best way possible). The book is humorously sprawling, always reaching for unexpected extremes. The beauty is in the peculiar details. This is not boilerplate pulp. There are few writers who could so seamlessly weave pulp mystery and the genre conventions with such huge laughs and distinctive details."
Dustin Luke Nelson, Bookslut

"Moving from palatial Malibu to sleazy inner-city Los Angeles and beyond, Kaufman, best known as the cocreator of Mr. Magoo, shows a penchant for surprising twists. The book's outrageous situations and fast-talking dialogue keep the intrigue running high. Kaufman died last year at the age of 92, and Misadventure, following the 2007 Bowl of Cherries, is his second and final novel. Full of solid prose and comically twisted moments, it makes us wish he'd penned a few more."
Josh Frank, TimeOut New York

"Millard Kaufman understands that in a noir worldlike, say, Los Angeles in the 1980sthe only hope for sanity is a sense of humor. Having lived through the city's earlier and equally absurd mid-century mores, he is more than qualified to skewer and roast its later incarnation. For a man in his nineties, Kaufman writes with all the verve and venom of a precocious 25-year-old; his story his goodbut his storytelling is a non-stop delight."
Eddie Muller

"Though it's only Millard Kaufman's second novel, Misadventure came after a lifetime of writing about the light and dark sides of humanity, and in it the dark side plainly has the upper hand. Fast, nasty and funny as hell, it's a brand new classic of the noir genre, and I wish the author had lived on to write ten more just like it."
Scott Phillips, author of The Ice Harvest

"From page one, Misadventure sparkles with the late writer's wit and wisdom. His prose is precise, efficient, and often surprising.... A rollicking comic-noir page-turner that is equal parts Elmore Leonard and Dashiell Hammett, with bits of Glengarry Glen Ross and Lolita thrown in for good measure."
Kevin Hobson, The Rumpus