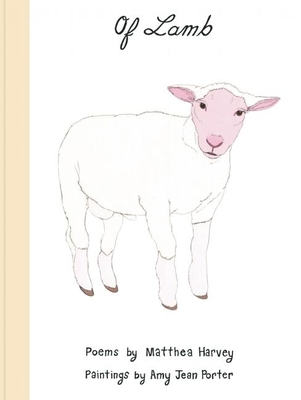 Of Lamb (Hardcover)
McSweeney's, 9781934781814, 120pp.
Publication Date: July 5, 2011
* Individual store prices may vary.
Description
Lamb and Mary were alike. Unbalanced. Flat-footed. High-strung. This is their story like you've never heard it--the tale of a loopy shepherdess and a depressive farm animal. In this version of the children's nursery rhyme, Lamb and Mary fall in love. They swoon, they are smitten. Then Mary has second thoughts. Lamb is a lamb, after all, not a man. Lamb, heartbroken, turns to drinking. Lamb goes to a madhouse. Mary buries her feelings. And then somehow, Lamb pulls it together. He leaves the madhouse mature--saddened but more dignified, ready for another chance to win Mary's heart. But will Mary let Lamb back into her life?
Award-winning poet Matthea Harvey offers a story told in short packets of verse, and artist Amy Jean Porter brings each stanza vividly to life with her eye-popping illustrations. The collaboration yields a beautiful, off-the-wall tale of a lamb who wants only to be human, and a human who wants the love of a lamb.
Praise For Of Lamb…
"Of Lamb is a work of such subtle, haunting, spellbinding beauty it is virtually impossible to describe it. Fantastical and yet, so strangely, achingly 'real' in its tracking of love, loss, grief, and again lovean astonishing collaboration between a poet (Matthea Harvey) and an artist (Amy Jean Porter) that defies all categories except Unique."
Joyce Carol Oates

"What a gentle, perverse, sad, adult-children's book this is! Each page features a lovely (too lovely?), often floral design by Amy Jean Porter and an accompanying minimalist poem by Matthea Harvey; each page is like a Valentine's Day chocolate with one drop of arsenic. Of Lamb makes the perfect gift."
Rae Armantrout

"What a beautiful book! Matthea Harvey's keen and subtle redaction of a tragic tale that finds within itself traces of the comforting levity of nursery rhyme is perfectly complimented by Amy Jean's exquisite paintings that surprise with sudden counter-currents of tone and delight with surreal invention. You'll want to frame every page."
Dean Young

"Turning the pages of this book is like turning a kaleidoscopeendless delight and surprise out of a few loose elements endlessly recombined. Part nursery school, part nursing home, a copy of this book belongs in both, and in every home where odd and tender treasures reside."
Mary Ruefle

"The gorgeous gouache illustrations by Porter bring Harvey's epiphanies, non sequiturs and startling images to life, resulting in a book with surprises and delights at every turn. It's equal parts bewildering and eye-opening, and certainly unlike any other graphic novel published this year."
Dan Kois, NPR Books