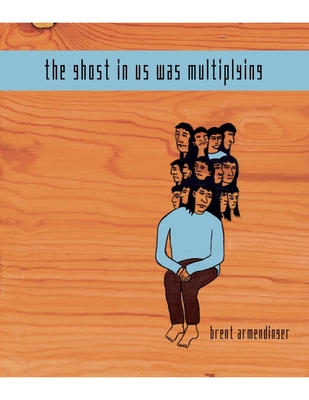 The Ghost in Us Was Multiplying (Paperback)
Noemi Press, 9781934819357, 79pp.
Publication Date: January 15, 2015
* Individual store prices may vary.
Description
Poetry. LGBT Studies. Where does one body end and another begin? In THE GHOST IN US WAS MULTIPLYING, Brent Armendinger explores the relationship between ethics and queer desire, infusing meditations on public life and politics with a radical sense of intimacy. Although grounded in lyric, these poems are ever mindful of how language falls apart in us and perhaps more importantly how we fall apart in language. Armendinger asks, "What ratio of news and light should a poem deliver?" This book is a continuous reckoning with that question and the ways that we inhabit each other.

"To 'multiply.' To 'devote.' To 'ferment inside a hush.' Brent Armendinger writes through and from the body, recollected contravened] at all turns by the ferocity of its accompanying landscapes, affinities and the heart itself. 'How else can I survive?' writes the poet, deep inside a book that traces the index of an intense need: the kind of contact that can't be assuaged by touch alone. I was so interested in this other, longitudinal and 'surpassing' touch that happened again and again in a book both measured and dreamed: the 'pictogram, ' for example, that's heard rather than seen; the blood that's mailed 'back north' a 'stain, my zero.' What does it mean to encounter a zero a 'stranger' that doesn't diminish in repetition, but which strengthens, glitters, hurts to look at directly or feel? Brent Armendinger writes into this quality or 'crucial' space with an emotional and soulful approach to the 'amniotic' potential of vocabularies, human and otherwise. 'What do the birds think?' I loved this book so much, for what it senses into as much as it expresses: a longing for radical company; studies of water and cosmic flows of all kinds. 'Where will you live now, ' asks the poet, 'and can you hear it, / the way your voice has changed?' Brent Armendinger is a rare experimental writer who writes deeply and passionately from the soul. I am extremely honored to write in support of his poetry." Bhanu Kapil

"The poems in Brent Armendinger's THE GHOST IN US WAS MULTIPLYING are hushed, as if spoken the morning after a heavy snow. They are also admirably attentive to sadness, breath, and desire. Their speaker laments being 'too permeable, ' but it's precisely that translucence that matters here: it makes audible the music of his 'almost way of touching, ' as well as delivering the sometimes melancholy, perennially essential sound of 'how the heart opening always feels.'" Maggie Nelson

"I'm full of admiration for Brent Armendinger's queer lyrics, which bravely convey desire's atmospheric density and disturbing power through elegant and mysterious figuration. Though these poems tell stories about gay life in the age of AIDS, they're stories written with a 'wet alphabet' capable of rendering the incredibly porous and vulnerable state of the desiring mind. Moving through simile and metaphor, substitution and displacement, these poems portray queer subjectivity as 'a double preposition, /a corridor in briefly, /the mind outside the mind in me.' Everywhere in this singular work, language that seems to lead inward instead leads outward. I love Armendinger's passionate commitment to that paradox. And I love his ambitious central task: 'I type a letter to the otherness I call you.'" Brian Teare.
Praise For The Ghost in Us Was Multiplying…
The poems in Brent Armendinger's The Ghost in Us Was Multiplying are hushed, as if spoken the morning after a heavy snow. They are also admirably attentive to sadness, breath, and desire. Their speaker laments being "too permeable," but it's precisely that translucence that matters here: it makes audible the music of his "almost way of touching," as well as delivering the sometimes melancholy, perennially essential sound of "how the heart opening always feels." Maggie Nelson

To "multiply." To " devote." To "ferment inside a hush." Brent Armendinger writes through and from the body, recollected [contravened] at all turns by the ferocity of its accompanying landscapes, affinities and the heart itself. "How else can I survive?" writes the poet, deep inside a book that traces the index of an intense need: the kind of contact that can't be assuaged by touch alone. I was so interested in this other, longitudinal and "surpassing" touch that happened again and again in a book both measured and dreamed: the "pictogram," for example, that's heard rather than seen; the blood that's mailed "back north" -- a "stain, my zero." What does it mean to encounter a zero -- a "stranger" -- that doesn't diminish in repetition, but which strengthens, glitters, hurts to look at directly or feel? Brent Armendinger writes into this quality or "crucial" space with an emotional and soulful approach to the "amniotic" potential of vocabularies, human and otherwise. "What do the birds think?" I loved this book so much, for what it senses into as much as it expresses: a longing for radical company; studies of water and cosmic flows of all kinds. "Where will you live now," asks the poet, "and can you hear it,/the way your voice has changed?" Brent Armendinger is a rare experimental writer who writes deeply and passionately from the soul. I am extremely honored to write in support of his poetry. Bhanu Kapil
or
Not Currently Available for Direct Purchase