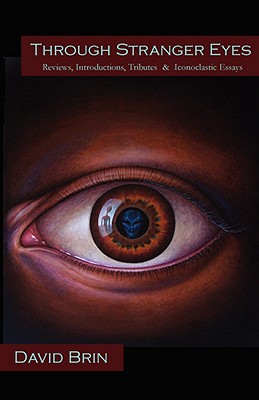 Through Stranger Eyes (Paperback)
Reviews, Introductions, Tributes & Iconoclastic Essays
Nimble Books, 9781934840399, 216pp.
Publication Date: July 14, 2008
* Individual store prices may vary.
Description
rom bestselling author David Brin comes a collected work that takes the reader on a swooping, controversial ride through worlds of fiction, nonfiction and film. Through Stranger Eyes is a freedom-of-expression free-for-all, offering more than two dozen reviews and commentaries that are sure to enlighten and entertain, possibly infuriate, even make you laugh.
From carefully measured views on J.R.R. Tolkien to Brin's infamous, outraged rant about the Star Wars saga, to unusual appraisals of familiar and unfamiliar works, you are guaranteed to come away with perspectives you never imagined before.
As readers, we have enjoyed Brin's fiction - the Uplift universe, books like Sundiver and Earth. Now venture into the mind and world of the journey into the mind of one of the most popular authors alive today, and see what he sees through stranger eyes.