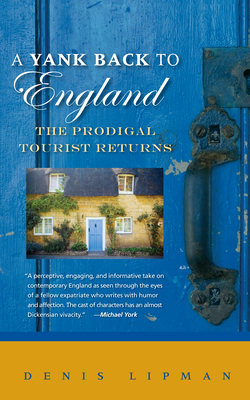 A Yank Back to England (Paperback)
The Prodigal Tourist Returns
GemmaMedia, 9781934848241, 310pp.
Publication Date: January 1, 2010
* Individual store prices may vary.
Description
Denis Lipman left London's East End for Washington, DC more than 20 years ago, but made an annual pilgrimage year after year to visit aging parents, a pair of cantankerous, real-life Cockneys. He endured the visits as best he could. Enter an American wife. Not content with a grin-and-bear-it attitude, she declares that since the trip to England was inevitable, then it was to be enjoyed: see things, go places! Against his will, our expat becomes a tourist in his homeland and discovers it's not so bad after all, certainly better than remembered! Here is a travel memoir more carbolic than bucolic. Discover a place where the sun doesn't always shine, where going to the loo can be an adventure, and where canned beans on toast is a cornerstone of cuisine. Taste the real East End and tour with a colorful group as they rent cottages, host outrageous relatives, meet the locals and discover the English countryside.
About the Author
Denis Lipman is a seasoned commercial writer with experience in advertising, theatre and music. He is partner in The Creative Shop, a DC agency serving industries from fast food to airlines to banking and real estate. His plays have received awards here and abroad, and he credits his ability to hold an audience to his career in magic. Denis Lipman lives in Washington, DC.
Praise For A Yank Back to England: The Prodigal Tourist Returns…
"Here is England seen entire, from inside out, from bottom to top, as Denis Lipman returns from America to his working class family home in blighted Dagenham. From there he, his young American wife, and his cockney Mum and Dad embark on a series of funny, touching, madcap and even surreal adventures as they visit celebrated landmarks and holiday spots in England as well as a good many pubs. The result is an absolutely wonderful book, not only about going home again but also about love and family and tradition and the passage of the years." –Michael Dirda, Pulitzer Prize-winning literary critic (Washington Post) and author of the memoir An Open Book/ "I am fascinated by our parallel lives." –Michael York, actor