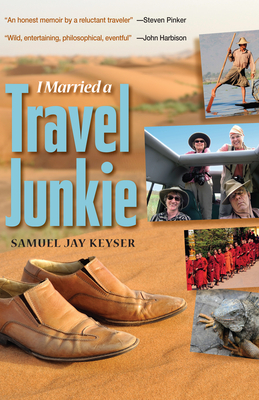 I Married a Travel Junkie (Paperback)
GemmaMedia, 9781934848432, 200pp.
Publication Date: January 20, 2012
* Individual store prices may vary.
Description
When he married for the second time, Jay Keyser thought he and his wife would settle down on a bucolic little farm in Massachusetts, a place where the cows meet the sea. That was before he found out the awful truth: he had married a travel junkie. While he was envisioning walks along quiet beaches, hand in hand at end of day, her sights were set on stakeouts beside the Grumeti River in Tanzania watching crocodiles take down a baboon. He didn't want to come within six thousand miles of a crocodile, let alone six feet. But, somehow, he couldn't let Nancy go it alone. And so, for the past fifteen years, Jay Keyser has followed his wife around this treacherous world. I Married a Travel Junkie is his chronicle.
A natural born lemonade-maker, our reluctant traveler did his level best to understand not only the extraordinary people and places he visited, but his own internal conflict. As he studied his anxiety across the course of seven terrifying trips to Africa, from the Serengeti National Park to the Bwindi Impenetrable Forest, he gradually began to accept the profound differences between his wife and himself. Although terrified by them, he has learned from his experiences, most especially from an encounter with an angry female gorilla, who offered key insight into marriage and human nature. Jay Keyser learned to stop and smell the elephant dung.
About the Author
Samuel Jay Keyser attended George Washington, Oxford and Yale Universities. With a PhD in linguistics from Yale. Keyser has taught at Brandeis University, University College, London, the University of Massachusetts and MIT where he joined the faculty. He is currently Professor Emeritus and Special Assistant to the Chancellor.Aside from his academic writings, Keyser has written a book of poems "Raising the Dead, " a book of children's poems "The Pond God and Other Stories" (winner of a Lee Bennett Hopkins Honor Book Award), and "Mens et Mania: The MIT Nobody Knows," an account of the MIT culture from his vantage point as Department Head, housemaster and Associate Provost (MIT Press: May, 2011). Keyser plays jazz trombone with the Aardvark Jazz Orchestra, an avant-garde jazz orchestra and the New Liberty Jazz Band, a Dixieland band that plays in the New Orleans style from the back of a restored 1941 Ford fire engine. Between the two bands Keyser has appeared on more than a dozen CDs.
Praise For I Married a Travel Junkie…
"An honest memoir by a reluctant traveler brings all the advantages of learning about exotic locales without the indignities, discomforts, and occasional terrors of actually visiting them. Jay Keyser—wit, poet, scholar, and (in this country) bon vivant—offers a pleasurable and edifying way to see the world in the comfort of your own home."--Steven Pinker, Harvard College Professor of Psychology, Harvard University, and author of The Better Angels of our Nature.
"A wild, entertaining, philosophical, eventful book. I identified to the last with the hero."--John Harbison, Composer, Institute Professor of Music, MIT. Chair, Composition, Tanglewood
"The self-effacing stories are full of humor and insight; anyone who has ever struggled with the fear of the unknown will be able to relate. A thoughtful and entertaining travel memoir full of engaging storytelling, this book will delight readers."—Library Journal
In this memoir, husband, former professor, and poet Keyser (linguistics, emeritus, MIT;
Raising the Dead
) follows the lead of his more adventurous and confident wife on her many trips. He is refreshingly honest about his own shortcomings as a traveler, but his wife, Nancy, has an unquenchable thirst for such journeys—the more distant and strange the better. Though extremely reluctant, Keyser is not one to be left behind. He travels with her around the world, including several trips to Africa, battling fears both real and invented, most of which are exaggerated by his internal monolog. Through these adventures, Keyser comes to learn his own style of traveling and how better to mesh it with his wife's modus operandi. In the end, he explores within himself what it means to be an individual and part of a couple.