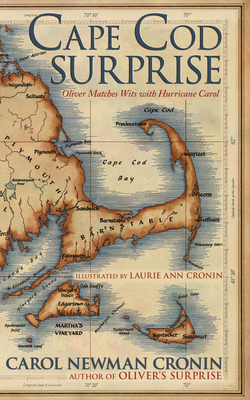 Cape Cod Surprise (Paperback)
Oliver Matches Wits with Hurricane Carol
GemmaMedia, 9781934848470, 157pp.
Publication Date: July 1, 2010
* Individual store prices may vary.
Description
Young adult fiction on Cape Cod coastal history and the Storm of '54 by Olympic sailing superstar. Oliver returns The character we came to love in Oliver's Surprise finds himself on Cape Cod aboard aboard Cap'n Eli's boat, the beloved "Surprise," as a major hurricane threatens to make landfall. In 1954, Hurricane Carol's wrath was felt from the Carolinas to Maine, and in Boston, she blew down the spire of the historic Old North Church. Her destruction was so complete that the name will never again be used; Carol was the first Atlantic hurricane name in history to be retired. Once again, young readers see New England coastal history through the eyes of our intrepid Oliver, now a seasoned time traveler. As Carol bears down on the sandy coastline, Oliver must face his own fears and uncertainties while contending with a renegade aunt and another time traveler who refuses to let go of modern niceties.
About the Author
Carol Newman Cronin crowned a lifetime of competitive achievement by winning two races for the USA at the 2004 Olympics in Athens. She has won numerous national and international sailing championships. Since retiring from Olympic sailing, Carol has focused on writing and graphic design. Carol Newman Cronin lives in Jamestown, RI. Laurie Ann Cronin is a long-time sailor and the sister-in-law of Carol Newman Cronin. She grew up on the Hudson River sailing a family owned nineteen-foot Rocket. Laurie graduated from Syracuse University with a degree in painting. She still sails the Finger Lakes of upstate New York with her husband and son, and occasionally visits the salty waters of Narragansett Bay.
Praise For Cape Cod Surprise: Oliver Matches Wits with Hurricane Carol…
Praise for CAPE COD SURPRISE
"Carol Newman Cronin has written an evocative story of a young man and the sea. You can smell the salt, hear the groan of the sails and feel the tiredness of oliver's muscles--and as he's travelling through time, surviving hurricanes, and discovering his love of this way of life, he's also discovering himself. A wonderful book." -Holly LeCraw, author of the "The Swimming Pool"

PRAISE FOR OLIVER'S SURPRISE
 "For the past 40 years I have raced along the waters of Narragansett Bay.After reading
Oliver's Surprise
my vision of the area will be of the infamous hurricane of 1938 and the young Oliver seeing the catastrophe take place." 
-Gary Jobson
, America's Cup Hall of Fame, ESPN commentator,         "The Voice of Sailing"  "A vivid glimpse of boatyard life for a modern boy whisked back to his grandfather's day, just before the hurricane of '38" -
Molly Bang
, author and illustrator of
When Sophie Gets Angry
   "For a kid smitten with the sea, an old schooner is the ideal vehicle for going back in time. Through young Oliver's eyes, Carol Newman Cronin offers a view of life along the 1930s Jamestown waterfront. Above all,
Oliver's Surprise
reminds us of the connectedness of family and friends through generations." -
John Burnham
, Editor of
Cruising World