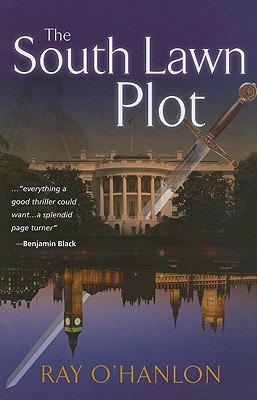 The South Lawn Plot (Hardcover)
GemmaMedia, 9781934848876, 336pp.
Publication Date: March 17, 2011
* Individual store prices may vary.
Description
Nick Bailey considers himself a hardboiled reporter for London's hungriest tabloid. But even Bailey is left reaching for answers when he gets a midnight assignment to investigate a body hanging from the infamous Blackfriars Bridge. Someone, it seems, is killing priests, and a mystery that will serve up much more than headlines is the latest twist in a deadly conspiracy, one centuries in the making, a plot that will reach all the way to the South Lawn of the White House.
In this tale of intrigue and bitter religious rivalry, Ray O'Hanlon sets a conflict that has simmered for four hundred years on a collision course with an American President and a British Prime Minster who are battling a present day crisis that threatens global peace. Both are confronting an uncertain future. But it's what is coming at them from the distant past that poses the greatest danger, a threat to their very lives.
About the Author
Ray O'Hanlon is editor of The Irish Echo, the USA's most widely read Irish-American newspaper, based in New York. Over the course of a distinguished newspaper career spanning more than thirty years, he has reported from three continents and has appeared on "CBS' 60 Minutes," "ABC World News Tonight" and "PBS NewsHour with Jim Lehrer." In addition to his work as a reporter and editor, O'Hanlon is a frequent contributor to media reporting on Ireland, Irish American affairs and Anglo-Irish relations. His book, The New Irish Americans (Roberts Rinehart, 1998, ) was the recipient of a Washington Irving Book Award. A native of Dublin and a keen reader of American, Irish and British history, O'Hanlon lives with his wife Lisa and their three children in Ossining, New York.
Praise For The South Lawn Plot…
"The South Lawn Plot has everything a good thriller could want – duplicitous politicians and secretive priests, a body dangling under Blackfriars Bridge, and a canny reporter who thinks he has seen it all, but hasn't. A splendid page-turner." -Benjamin Black, New York Times bestselling author of Christine Falls and Elegy for April
"...a marvelous novel, with a layered, hard-driving narrative, vivid characters, abiding mysteries, and the past that has not passed."-Pete Hamill, New York Times bestselling author of A Drinking Life and Forever
"There's a lot to recommend here….  [A] tangled plot whose strands gradually twine together to create a rope of intrigue that may be too strong to be broken. Throw in MI5, MI6 and a few American agencies and you've got a potboiler. A very satisfying read." -Suspense Magazine
"The South Lawn Plot is an altogether more thought provoking book than most of its genre. Pulse pounding for sure, but also introspective and delighting in its brilliantly assembled plot twists. Most thrillers can entertain, but O'Hanlon's has the added power to surprise and unsettle." -The Irish Voice
"For those who like their history mixed with religion and presented as a murderous puzzle that keeps exploding in our own tormented time, this will be a book to remember and even treasure." -Thomas Fleming, New York Times bestselling author of The Intimate Lives of the Founding Fathers
"A far flung thriller set in contemporary times and in England, just after the Gunpowder Plot. A fast-paced page-turner. O'Hanlon takes the reader around the globe, casting his mind to an Irish hillside, the countryside of Essex, the back alleys of London, a Taipei penthouse and the corridors of power at No. 10 Downing St. and 1600 Pennsylvania Ave. What follows is a cavalcade of characters and details that lead, whether from the 1600s or the 21st century, to the American president's residence. It might remind some of "The Da Vinci Code" or the works of Michael Connelly." -
The (Gannett) Journal News
.
"With his debut novel, Ray O'Hanlon has placed himself somewhere between Dan Brown and Michael Connelly within the realm of suspense writing....[He] has formed a fascinating world of words; I look forward to his next one."  - Irish America Magazine