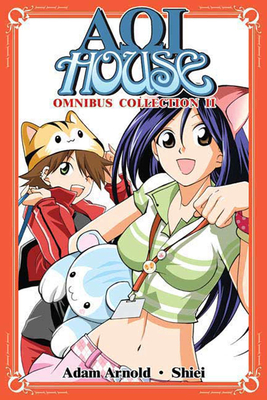 Aoi House Omnibus 2 (Paperback)
Seven Seas, 9781934876268, 352pp.
Publication Date: November 25, 2008
* Individual store prices may vary.
Description
Alex and Sandy (and their panty-stealing pet hamster Echiboo) have survived an entire semester of unspeakable tortures at the hands of five crazed yaoi fangirls. Now the whole gang is off to the anime convention Hatsu-Con where sparks fly as the Aoi House gang comes face to face with their bitter rivals: "They Who Must Not Be Named"! Nonstop craziness and fan service abound in Aoi House's most outrageous adventure yet!
Seven Seas is pleased to present this omnibus edition which contains Volumes 1 and 2 of Aoi House in Love! in one affordable collection!
About the Author
Adam Arnold
founded the fandom-related webzine Animefringe.com
.
He is currently Senior Editor of Seven Seas and resides in Georgia.
Shiei is the artist for Aoi House. She is the most prolific Original English Language manga artist in the US, having completed 3 volumes of Aoi House and 4 volumes of Amazing Agent Luna so far. Shiei resides in Southern California.
Praise For Aoi House Omnibus 2…
"Aoi House in Love! is a perfect balance of anime stereotypes, humor, and human drama that pokes fun at all aspects of anime and yaoi fandom." —MangaNews.net
"Aoi House is the next evolution in manga comedy!" —Active Anime
"Pick up this book…you're going to have a good time reading it." —IGN.com
or
Not Currently Available for Direct Purchase