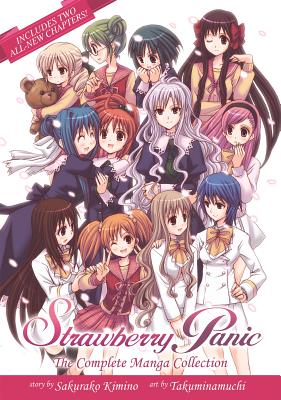 Strawberry Panic Omnibus (Manga) (Paperback)
Seven Seas, 9781934876831, 320pp.
Publication Date: September 28, 2010
* Individual store prices may vary.
Description
For new transfer student Aoi Nagisa, St. Miator Girls' Academy offers her the chance at a fresh start and a way to redefine herself. But these noble intentions go out the window when she catches her first glimpse of honor student Hanazono Shizuma, whose porcelain white skin and goddess-like beauty leave Nagisa speechless.
It's puppy love at first sight, but naive Nagisa is unaware that Shizuma is a serial heartbreaker who has set her sights on Nagisa herself. Will Nagisa end up as another notch on Shizuma's belt, or does fate have other plans in store for the new couple?
About the Author
Sakurako Kimino is the author of Sister Princess and Baby Princess.
Namuchi Takumi is a female Japanese artist who is best known for her work on the Strawberry Panic light novels and manga series.
Praise For Strawberry Panic Omnibus (Manga)…
"Girl-Crushes Gone Wild!" —NEWTYPE USA
"With cute, doe-eyed characters and a soft, almost Impressionistic style to the backgrounds, this is definitely a dreamlike experience on both the visual and emotional level." —ANIME NEWS NETWORK